Land Report June 2016 Newsletter
Land Report June 2016 Newsletter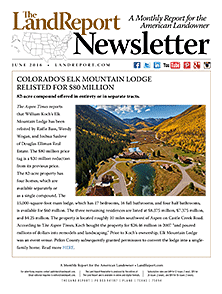 Transactions worth tens of millions highlight our June newsletter:
Bill Koch's Elk Mountain Lodge outside of Aspen is back on the market.
The State of Wyoming agrees to sell two tracts to Uncle Sam for $46 million apiece.
A $100 million South Carolina timberland sale closes.
The Santa Ana Pueblo buys King Brothers' Alamo Ranch.
The Osage Nation buys Ted Turner's Bluestem Ranch.
For up-to-the-minute reports on listings, auctions, sales, and breaking news pertaining to land and landowners, be sure to follow us on Facebook, Twitter, Pinterest, Google+, and Instagram.