Land Report March 2015 Newsletter
Land Report March 2015 Newsletter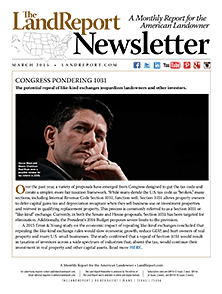 Our March newsletter features numerous news items, including:
Why landowners must contact their elected officials in Washington.
Which 5,221-acre legacy property goes on the auction block next month.
Who is heading up the new Land & Ranch Division at Concierge Auctions.
For up-to-the-minute reports on listings, auctions, sales, and breaking news pertaining to land and landowners, be sure to follow us on Google+, Facebook, Twitter, Pinterest, and Instagram.