Land Report Newsletter December 2010
Land Report Newsletter December 2010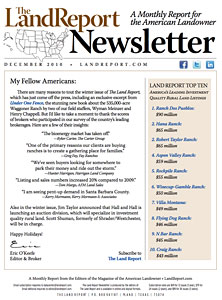 As 2010 winds down, the upbeat tempo of the investment quality rural land market is apparent in the comments of dozens of brokers interviewed by The Magazine of the American Landowner. We've featured several of these insights in our December Land Report newsletter.
Buyers are no longer bottom feeding. Sellers are setting prices in line with market conditions. The net result is that the bid-ask spread has closed enough to generate a substantial increase in the number of transactions from coast to coast. Some of the more prominent ones are featured in the current Land Report newsletter. Also featured are emerging trends in regional markets, such as the boom in farmland prices.
P.S. Our award-winning quarterly magazine is available in a print version by subscription.