Land Report Newsletter November 2010
Land Report Newsletter November 2010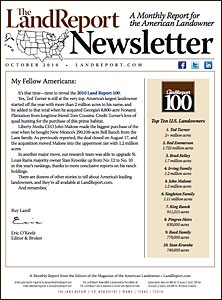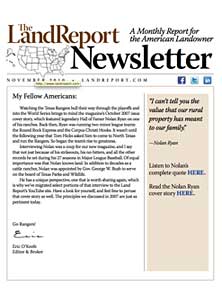 Timberland, ranchland, farmland — the November edition of our monthly newsletter chronicles one transaction after another as liquidity continues to return to markets nationwide. This strong trendline — sellers and buyers increasingly finding common ground —  has emerged as one of this year's key stories and will be covered more in-depth in the Winter 2010 issue of the Magazine of the American Landowner.
Feel free to forward the November edition of The Land Report's monthly newsletter to colleagues as well as those interested in investing in land.
P.S. Our award-winning quarterly magazine is available in a print version by subscription.