Land Report November 2011 Newsletter
Land Report November 2011 Newsletter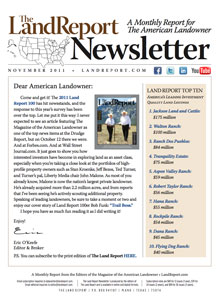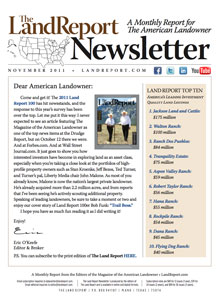 Take a moment to scan the November edition of The Land Report newsletter. You'll be amazed at the amount of activity going on in land markets currently.
Impending auctions of key parcels, record-setting new listings, fire-sale prices on bankrupt holdings – the number of transactions taking place in all sectors is quite encouraging and, as you will soon read, in all parts of the country.
For more up to the minute reports on listings, auctions, sales, and breaking news pertaining to land and landowners, be sure to follow The Magazine of the American Landowner on Facebook and Twitter.
P.S. Our award-winning quarterly magazine is available in a print version via subscription.