Land Report October 2012 Newsletter
Land Report October 2012 Newsletter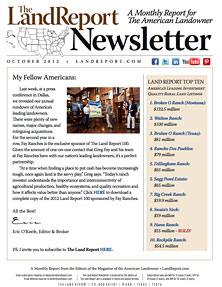 A conservation easement leads to our country's newest conservation area.
Productive ag land sets a new auction high.
A major bump in U.S. hunting and fishing numbers.
These are a few of the featured items in our October 2012 newsletter, which is now available HERE.
From coast to coast, interest in land and land-based assets continues to rise. See so for yourself as we present new listings, new sales data, and auction updates.
For up-to-the minute reports on listings, auctions, sales, and breaking news pertaining to land and landowners, be sure to follow us on Facebook, Twitter, and Pinterest.