Land Report October 2014 Newsletter
Land Report October 2014 Newsletter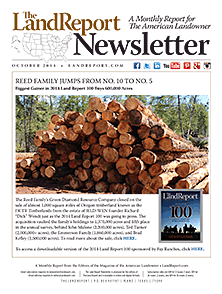 Headlining our October 2014 Newsletter?
The 2014 Land Report 100 sponsored by Fay Ranches, of course. But wait – there's more!
LISTED! Ted Turner's private Beaufort County Island.
SOLD! 32,000 acres timber and grazing land known as the Foley Butte Block.
SOLD! 165,000 acres of Plum Creek timberland to The Nature Conservancy.
SOLD! 600,000 acres of Oregon timberland owned by the estate of JELD-WEN founder Dick Wendt.
CLOSED! Molpus Woodlands Group closes Fund IV with $662.5 million in commitments.
For up-to-the-minute reports on listings, auctions, sales, and breaking news pertaining to land and landowners, be sure to follow us on Google+, Facebook, Twitter, Pinterest, and Instagram.