Land Report September 2017 Newsletter
Land Report September 2017 Newsletter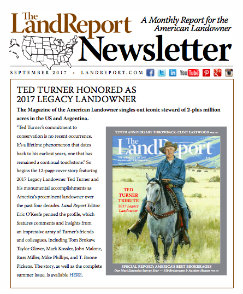 TED TURNER HONORED AS 2017 LEGACY LANDOWNER. The Magazine of the American Landowner singles out the iconic steward of 2-plus million acres in the US and Argentina with the cover story of the summer issue. Other great reads include:
Molokai Ranch comes to market for $260 million
Cross Mountain Ranch comes to market for $100 million
Tres Hermanos Ranch sells for $41.6 million
284-acre estate sells for $7.7 million on Boston's North Shore
Bayer AG joins the fight against citrus greening in Florida
For up-to-the-minute reports on listings, auctions, sales, and breaking news pertaining to land and landowners, be sure to follow us on Facebook, Twitter, Pinterest, Google+, and Instagram.