Sold! Texas's Camp Cooley Ranch
Sold! Texas's Camp Cooley Ranch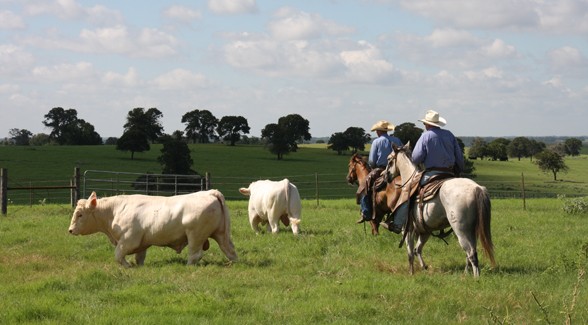 SEPTEMBER 6 UPDATE:
Camp Cooley Ranch sold at auction for $28.5 million to Circle X Land and Cattle Company August 4. Twenty-two qualified bidders, along with their families, attorneys, lenders, and consultants, attended the auction, which was held at the Robertson County ranch. The $28.5 million sale price included surface and mineral/royalty interests. All equipment and personal property was offered through a separate transaction.
According to Bernard Uechtritz of Great Estates Ranches, Camp Cooley ranks as one of the most beautiful ranches in the nation, thanks to its topography, abundant waters, and multi-million-dollars of improvements. "In the cattle industry, Camp Cooley is a major brand name," he said. Uechtritz coordinated the extensive marketing campaign leading up to the auction; the auction itself was overseen by Hall and Hall Auctions.
JULY 25 UPDATE:
In the midst of a statewide drought that is crippling Texas farms and ranches, Camp Cooley Ranch continues to thrive.
"Camp Cooley is an oasis," says Bernard Uechtritz during a telephone conversation from the headquarters of the Central Texas ranch. "Every other ranch I've seen over the last few weeks has browned up, but not Camp Cooley. It continues to irrigate, to fertilize, and to bale hay. Take a look at that aerial video at Camp Cooley.com. We shot that two weeks ago, and everything was still green. Still is. Name another ranch in Texas that is baling hay in late July." According to Uechtritz, Camp Cooley Ranch has a year round carrying capacity of 4,000 head, and as recently as two weeks ago was running 4,700 head.
As the August 4 auction deadline approaches, Uechtritz reports that multiple stalking horse bids have been received for specific assets as well as for the entire ranch. "The action has been terrific. We've easily had 20-plus parties tour the ranch and given it a serious look," Uechtritz says.
Leading the list has been a large number of cattle companies that recognize Camp Cooley's turnkey potential. "Readers of The Land Report would immediately recognize the names of many of these famous ranch operators. These guys know what a once-in-a-lifetime opportunity Camp Cooley presents," Uechtritz says. Other parties who have toured the ranch have eyed the mineral rights, the water rights, royalty revenues, the hunting preserve, and the possibility of developing a wetlands mitigation bank.
"Watching the interest build around Camp Cooley has been extremely exciting for Hall and Hall," Scott Shuman says, head of Hall and Hall's Auction Division. "When you get a property with the history and the potential of Camp Cooley and combine it with such close proximity to major metropolitan areas such as Houston, Dallas, Austin, and San Antonio, it's bound to generate a ton of interest. And we're definitely seeing that. I expect the pace to pick up even more as the auction date approaches."
Buyer's registration forms and bidder's packets for the invitational auction are being released on Friday, July 22. Bidders must pre-qualify and be invited to attend the August 4th auction, which is presently scheduled to take place at Camp Cooley Ranch. Through the protected buyer process that was approved by the court, there is also the possibility of a private treaty sale prior to the August 4 auction.
JULY 15 POST:
A Texas icon goes on the block this August as Camp Cooley Ranch is to be auctioned off by Hall and Hall Auctions. At 10,600 acres, Camp Cooley is one of the largest properties in close proximity to Houston, Dallas, Austin, and San Antonio. A sophisticated multi-level turnkey cattle and commercial hay operation, Camp Cooley generated more than $700,000 in grazing revenues, more than $1.5 million from commercial hay operations, and more than $1.4 million in gas royalties in 2010. In addition, there are considerable untapped revenue streams associated with existing gas and water rights. Located in the heart of the Lone Star State near Franklin, Camp Cooley will be auctioned by Hall and Hall as a single tract on August 4, 2011.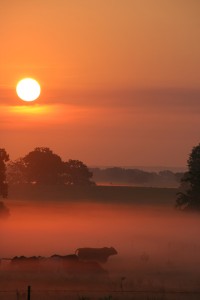 LOCATION
Camp Cooley Ranch is located in Robertson County in the heart of Central Texas and is bounded by the Navasota River to the east. Approximate drive times are as follows: Bryan-College Station, 30 minutes; Austin, 90 minutes; Houston, two+ hours; Dallas, two+ hours; San Antonio, three hours.
HISTORY
The ranch takes its name from the Civil War. Houston entrepreneur Bert Wheeler assembled Camp Cooley from dozens of neighboring tracts. As Camp Cooley's renown grew, Wheeler hosted such Texas luminaries as John Connally and Lyndon Johnson.
Under current owner Klaus Birkel, Camp Cooley Genetics has become one of the country's best known seedstock cattle operation, running up to 4,500 cow/calf pairs and as many as 2,000 bulls.
ASSETS
Ranch headquarters is a 8,590-square-foot lakeside main residence. Improvements include a 15-suite executive office complex, meeting rooms, and security and communication systems to monitor the ranch.
The entire ranch is served by a computer-monitored water well system, including all residences, barns, workshops, a multi"use sale pavilion, and the breeding and cattle workstations. There are approximately 84 miles of roads in place on Camp Cooley.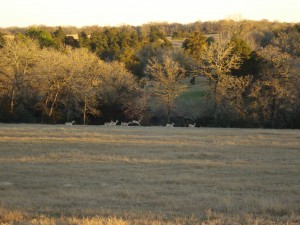 Camp Cooley boasts rolling terrain that boasts numerous lakes, abundant woodlands, as well as wetlands that are ideal for development as a mitigation bank. The ranch's 1,000"acre exotic game preserve is among the oldest in the state and could be increased in size.
OPPORTUNITY
Qualified bids need to be submitted by Wednesday, July 27 at 5 p.m. (CST). For more information on this auction, contact Bernard Uechtritz at (214) 608-8567 or Scott Shuman at (800) 829-8747.