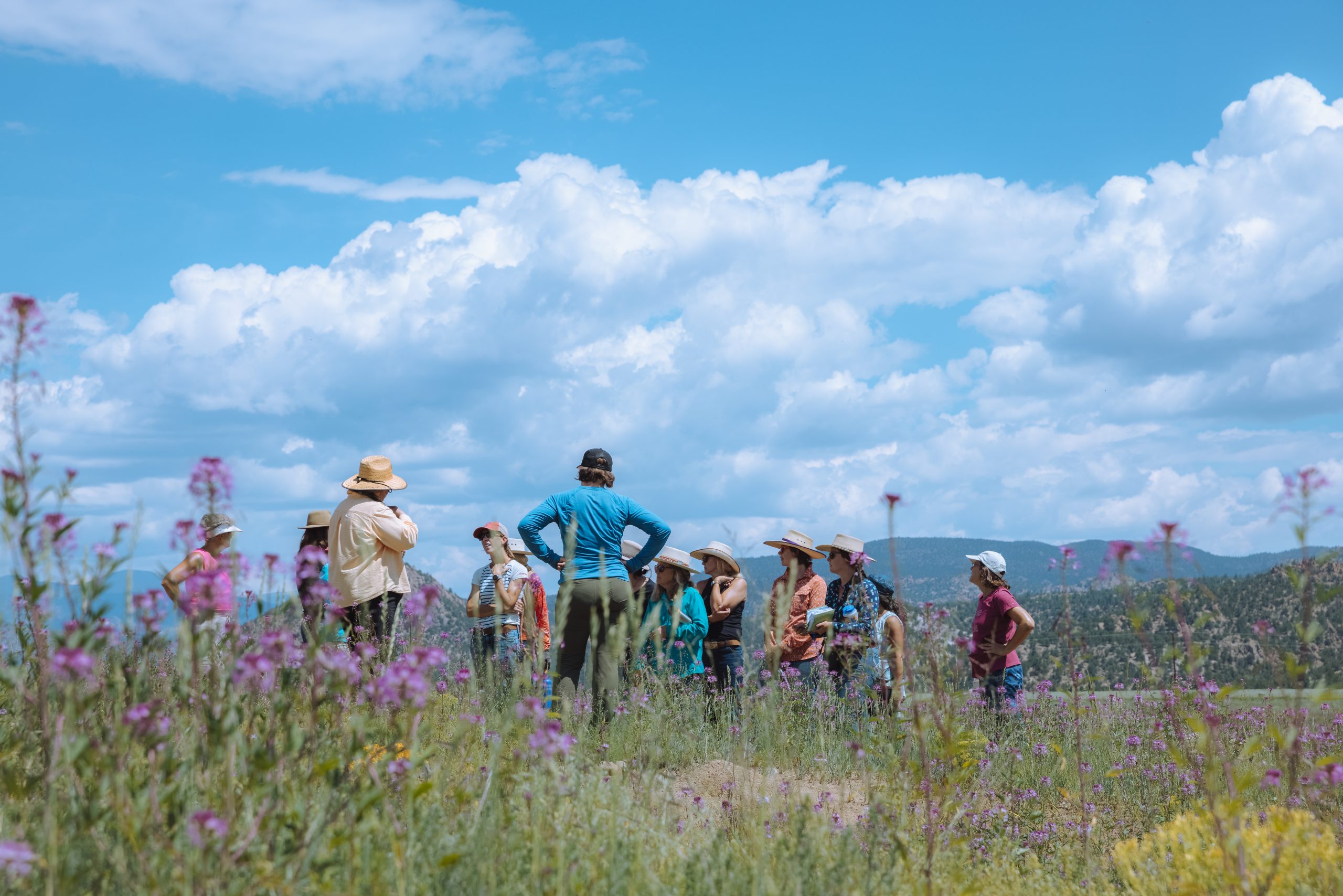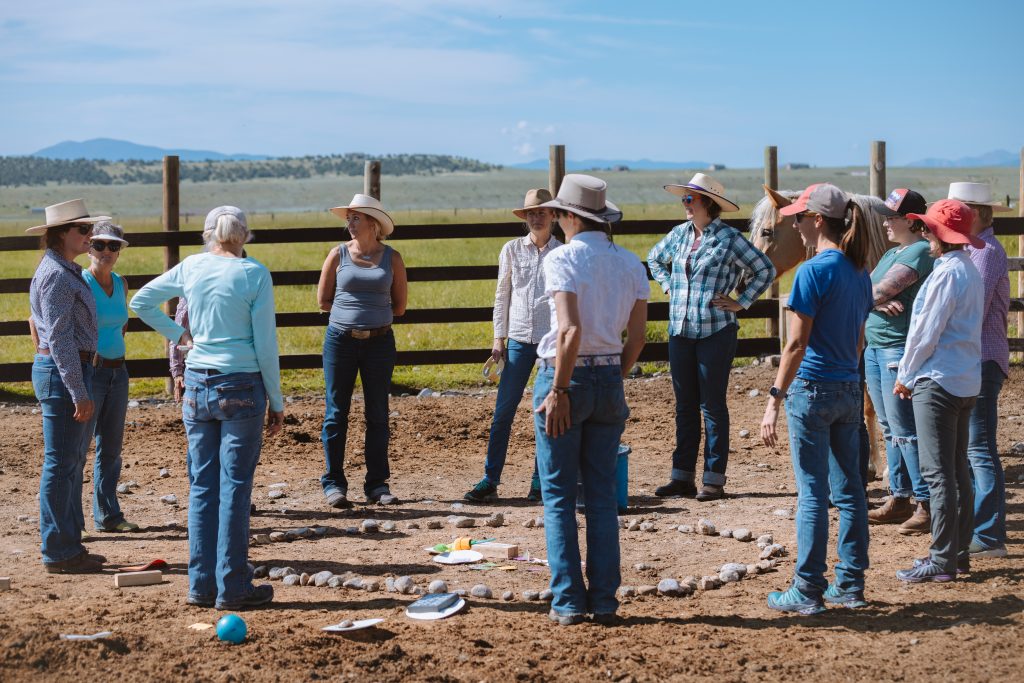 Long before the advent of the written word, women gathered in circles to tackle tasks and build bonds. In the Old West, the concept of a "circle" conjures up images of pioneer women stitching, prepping, and, of course, sharing. For the Women in Ranching program, sponsored by the Western Landowners Alliance (WLA), the Circles have become a vital forum.
Several times a year, members of the organization gather for three-day events at a host ranch where participants gather to network, mentor, share ideas, set goals, and strategize new projects.
"The Circle remains a strong symbol. No matter where a woman finds herself along life's journey — rearing families, supporting partners and spouses, or developing her career — she has a place within the Circle," says Amber Smith, the Women in Ranching program director at the WLA. Smith and her husband run a 53,000-acre ranch outside of Cohagen, Montana.
"These gatherings activate women to connect and share with each other and strengthen our collective voice for the betterment of our rural communities," says Smith.
Wendy Millet is a Harvard graduate with a degree in literature. After college, Millet shifted gears and began pursuing a lifelong dream of working on a ranch. "I didn't have a peer group. One of my board members told me I should start one," she says. Millet serves as the educational director and ranch director at TomKat Ranch, an 1,800-acre outfit that raises grass-fed beef in the San Francisco Bay area. She enlisted her friend Elaine Patarini, director of education and innovation at Paicenes Ranch, a Central California ranch owned by Sallie Calhoun that dates to the mid-1800s. Together, all three invited every female contact they had in the ag industry. They expected only a handful to show up. Instead, they got 26 RSVPs.
"I left feeling valued and appreciated for exactly who and what I was," Smith says. "It was so exciting and engaging to spend days talking with women about day-to-day skills of running a ranch."
In 2019, Western Landowners Alliance agreed to serve as the nonprofit home for the group, with Smith at the helm. Like a lot of entities, Women in Ranching was forced to pivot from in-person gatherings to virtual events for a year-and-a-half during the COVID-19 pandemic. This detour gave women who might not otherwise have had an opportunity to travel the opportunity to network and learn.
"I was hesitant about pursuing any further educational experiences — soils courses, conferences, NRCS tours, and so on — because I didn't have a platform of knowledge. It seemed futile," says Cinch Buckle Ranch's Liz Barbour. "Through Women in Ranching, I learned to pursue my passions regardless."
After attending her first Circle, Barbour felt energized and began attending agricultural events and gatherings. "My perspective changed, and I allowed myself to explore," she adds. "I no longer allowed myself to be walled off to learning just because I couldn't apply the knowledge right then."
Millet often hears testimonials like this. They reinforce her belief in the power of the Circles. "Women in ranching and in ag are marginalized and in the minority. They have emerged from the Circles and started businesses. And the networking has been incredible," she says. Attendees trade horses and livestock. Others inquire about grazing techniques.
"These women want to connect with someone in our community who knows more about a certain topic than they do," says Smith.
In July 2021, the first in-person Circle following the pandemic took place in Colorado. "We've got gals in the middle of nowhere homeschooling four kids and working on ranches," Smith says. "It's a challenge for them to participate, but that's exactly the women I want to be our key audience."
Backgrounds and expertise vary enormously. Some of the attendees grew up ranching or in agriculture, while others found their way to a career on the land during college. The Circles also include women involved in fields with parallel interests, budding entrepreneurs who live on ranches but don't run them.
"The labels fade away pretty quickly," says Ariel Greenwood, who spends half the year in Montana beneath the Beartooth Mountains and the other half on the High Plains of New Mexico. With encouragement and support from the Circles, she started a grass-fed beef brand. "It was how I paid myself for some of my early work with cattle," she explains.
Liz Barbour hosted a Circle at Cinch Buckle Ranch in Eastern Montana in late July. She knows firsthand the struggle of juggling parenthood and ranch work. The mother of two is a Purdue graduate who began her professional career as an addiction counselor and caseworker.
But by the summer of 2021, she was rolling out of bed at 3 a.m. to saddle horses, load them in a trailer, and haul them to the east side of the Cinch Buckle to move cows in the cool of the early morning. Barbour manages the ranch with her husband, Drew. From addiction counselor to ranch manager is a big leap, one that Barbour feels is less fraught thanks to support from Smith and the Women in Ranching crew.
"It fuels your soul when you get to do the things you love to do, especially if there's someone helping you to do it," Barbour says. "I love the landscape and love working lands and improving lands. The Circles really gave me permission to start learning new things."
Women in Ranching will host its second annual virtual conference November 11–13. This year's lineup will highlight women-run businesses in agriculture. Most participants hail from Western states, but the group welcomes all women including students studying ranching.
"We have built up a community with a culture of caring and sharing," says Millet. "It's really a beautiful thing."
Learn more about Women in Ranching HERE.