Sixteen Million Bison Burgers Later
Sixteen Million Bison Burgers Later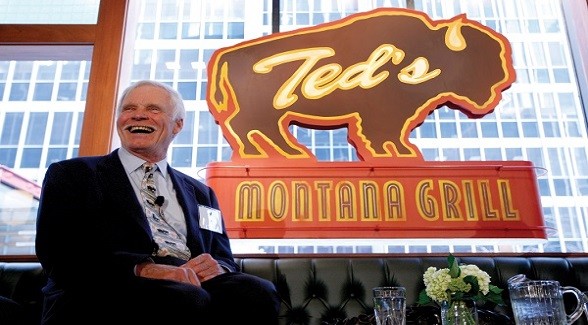 "Ted didn't want to be in the cattle business. He didn't want to be in the hay business. He didn't want to be in the oil and gas business. He wanted to be in the bison business because it would rekindle America's West the way it was."
So says George McKerrow, Ted Turner's partner and the CEO of Ted's Montana Grill. McKerrow knows the restaurant business cold. Since graduating from Ohio State, it's been his career. After cutting his teeth with Victoria's Station, he opened his first LongHorn Steakhouse in Atlanta in 1981.
By the time he retired two decades later, LongHorn was a national player and Capital Grille was a part of his company's portfolio. In 2002, he and Turner had a meeting of the minds, shook hands, and launched their classic American grill. Over the last decade they've grown it to 44 restaurants in 16 states.
I was blown away by my first visit to a Ted's Montana Grill on the Pearl Street Mall in Boulder, Colorado. The restaurant's vibe is very Turneresque, thanks to the dark woods, brass accents, and Western art, reproductions of originals from Turner's private collection. The wine list has a decided Western flair, and Turner properties – Blue Creek Ranch, Avalon Plantation, Vermejo Park, and St. Phillip's Island – lend their names to dishes.
One surprise that caught me off guard was that many of the entrees – steaks like Ted's Filet and the 14-ounce Delmonico Ribeye as well as all the burgers – were all available with bison or with beef.
"I love beef," McKerrow says. "I've sold a lot of beef all my life. But [then] I started to read about bison." His conclusion? "This ought to be a product that we make available to the consumer."
To that end, over the last decade Ted's Montana Grills have prepared and served a whopping 16 million bison burgers, 4 million bison steaks, plus millions of other bison dishes, including pot roast, meatloaf, chili, short ribs, and nachos.
According to McKerrow, the impact on the demand for bison products has had a wide-reaching effect. "Everywhere we've built our restaurants, consumers did exactly what we predicted they would do. They went to their local grocery store and said, 'Wow, I just ate bison burger. I need to buy some filets. I want to buy some short ribs.' So the grocery stores started to pick up on it. Now the tide has reversed from a four-year oversupply to an on-demand short supply," he says.
From a big picture standpoint, cattle is still king. "Compared to beef, bison is a minute supply chain," McKerrow says. "On a typical day, 135,000 cattle a day go to market in the U.S. By comparison, 53,000 bison went to market worldwide last year."
Resources
Ted Turner | www.tedturner.com
Ted's Montana Grill | www.tedsmontanagrill.com
Turner Endangered Species Fund | www.tesf.org