Sold! Oklahoma's Waurika Farms
Sold! Oklahoma's Waurika Farms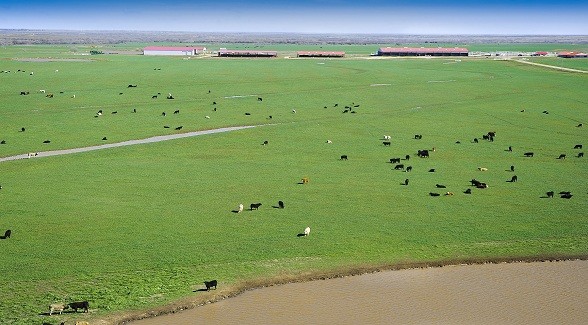 APRIL 12, 2012 UPDATE:
Hall & Hall Auctions auctioned Waurika Farms, one of the largest beef production operations in the Southern Oklahoma, for a whopping $11 million ($1,833 per acre). Pre-sale estimates ranged from $1,300 to $1,500 per acre. Owned by Oklahoma's Drummond family, the 7,000-acre farm includes 3,300 acres of wheat land and 2,700 acres of Bermuda grass and native species. "We were also able to sell all of the equipment above the sale price," says Auctioneer Scott Shuman, who noted that 15 registered bidders attended.
MARCH 14, 2012 POST:
Waurika Farms is one of the largest cattle operations in the area, historically producing two million pounds of beef annually.
At 7,000± acres, Waurika Farms, which is the family beef operation of the well-known Drummond family of Oklahoma. This expertly designed and efficient 21st century stocker cattle operation can run between 8,000 and 10,000 head of stocker cattle annually.
The acreage of this property is comprised of 1,000 acres of privately leased land of native grass, approximately 3,300 acres of wheat land, and about 2,700 acres in mostly Bermuda grass and native species. There are also over 60 ponds throughout the property in the wheat traps and grass traps, providing an excellent source of water for the livestock.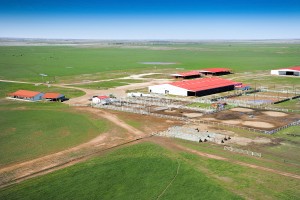 Created to maximize beef production in the most efficient way possible, Waurika Farms includes 30 miles of new fence laid out to accommodate cattle movement with a minimal number of employees. The property also includes a modern headquarters with a good set of pens and scales, a 28,000-sq.-ft. shop building, a covered arena, an outdoor working arena, and the owner's home. There are five other working pens and two other sets of scales on the farm.
Auction Date: April 12, 2012 at 1:30 PM CST
Information Dates: March 21, 2012 and March 29, 2012 from 1-4 PM CST
Location: Waurika Farms Headquarters, Waurika, OK
For more information or to request a showing, contact Scott Shuman at (800) 829-8747, John Wildin at (620) 662-0411, or visit www.HallHall.com.