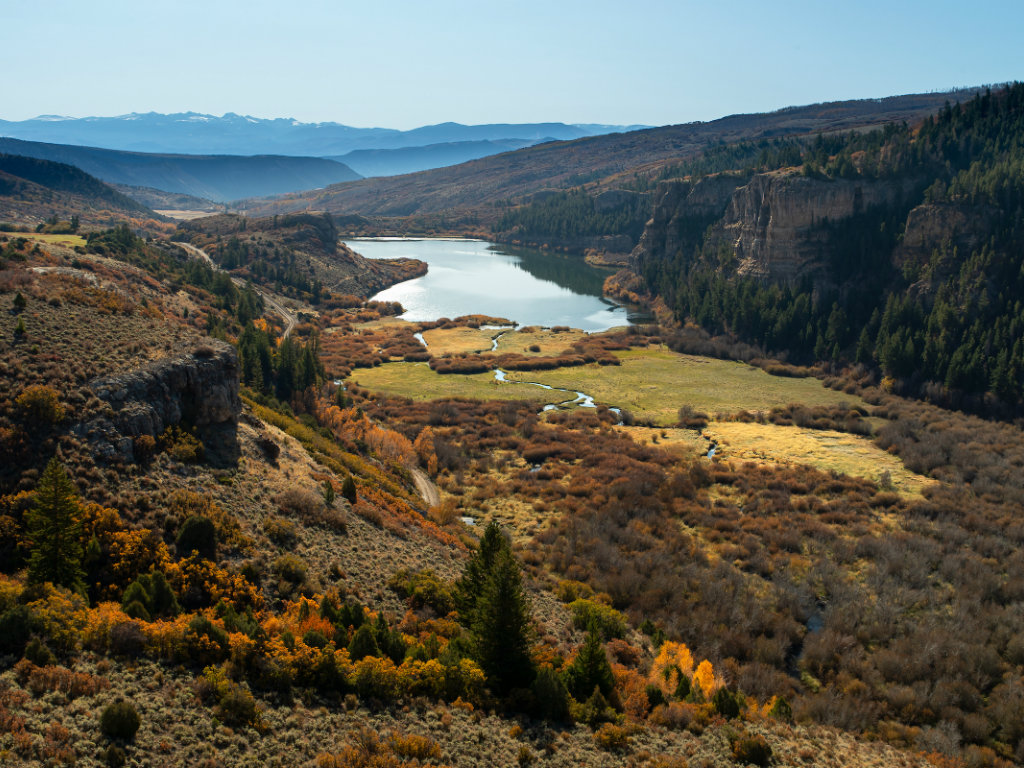 SOLD! A broad coalition rallies to preserve a beloved COLORADO landmark.
| Photography by Todd Winslow Pierce
The path to commercial development of Colorado's Sweetwater Lake took a detour down Memory Lane as a nostalgia-fueled community fundraising effort enabled The Conservation Fund to acquire the 488-acre landmark in late June.
The Conservation Fund paid Coulton Creek Capital $7.1 million to purchase the alpine lake, which is located approximately 150 miles west of Denver. The stunning tract has long been eyed by developers, including recent efforts to establish a spring-fed water-bottling plant on the site as well as a proposal for a luxury lake club.
Instead, The Conservation Fund plans to eventually transfer its recent acquisition to the United States Forest Service (USFS) through the Land and Water Conservation Fund, ensuring permanent protection of the 77-acre lake and surrounding property.
"We view ourselves as the interim owner," says Justin Spring, Senior Project Manager for The Conservation Fund. "We're acquiring the property on behalf of the American public. It's short-term ownership where we hope to eventually get this to the Forest Service."
The purchase was made possible in part because of robust local fundraising support, including approximately $350,000 in private donations raised by the Eagle Valley Land Trust's "Save the Lake" campaign.
"What really surprised us was the level of value that the local community attaches to Sweetwater Lake," Spring says. "It's been actively used by the community for more than 100 years. It's part of who they are.
"So you had sixth-graders doing bake sales and donating $200 to the campaign, and then you had folks writing six-figure checks. You had the full breadth of support from the community, and that played a huge role in getting interest from the Forest Service."
The fundraising effort by EVLT included eliciting letters of support from local residents as well as out-of-state vacationers who have made regular trips to Sweetwater Lake for generations to enjoy the scenic beauty and a wide variety of outdoor recreation opportunities.
"The letters had a lot of comments about community and nostalgia and family," EVLT Executive Director Jessica Foulis says. "There were all these stories about how much people love this special place, and that helped motivate others to donate to the cause.
"The heartwarming thing about this project is it really was community-based. Seeing how much people love Sweetwater Lake made it very rewarding to be part of this project. It speaks to how important this place is to the community."
While most of Sweetwater Lake has been under private ownership for decades, the public still had access to it because the proposed development projects never materialized. As a result, it became a popular location for camping, horseback riding, fishing, hiking, swimming, and kayaking, as well as an entry point into the adjacent White River National Forest and nearby Flat Tops Wilderness.
Spring says plans are now underway to invest in new docks and boat ramps, refurbish cabins, and provide boat rentals through A.J. Brink Outfitters, a company with decades of experience in the high country in general and at Sweetwater Lake in particular.
"Outdoor recreation is a major economic driver for the community and the state," Spring says. "This is a great chance to enhance and expand the access that the public will have to the lake and the surrounding property."
Sweetwater Lake sits north of Interstate 70, approximately 30 miles from Glenwood Springs. Other than some picturesque ranches along Sweetwater Creek Canyon, there is hardly any development in the immediate area.
The entrance to the property passes a pair of towering limestone cliffs that create a small slot through the canyon. In the late 1920s, Chicago hitman Louis "Diamond Jack" Alterie moved onto a 4,000-acre ranch at Sweetwater Lake and placed lookout guards atop those entry cliffs.
The property is surrounded almost entirely by national forest. A small section is under the purview of the Bureau of Land Management. The lake itself is one of the largest natural lakes in Colorado. There are 30 acres of wetlands along the western edge of the property at the inlet where Sweetwater Creek enters the lake, and the Forest Service maintains a small campground on the eastern side.
Colorado Parks and Wildlife keeps the lake stocked with trout, which are joined each year by migrating kokanee salmon. Bald eagles and osprey are common sights nesting in the pine trees at the water's edge.
"It's just a beautiful property that's part of an amazing wildlife corridor," says Jessica Foulis of the Eagle Valley Land Trust. "It's a place that is really beloved by the local community." That is evident by the amount of support there was for the purchase. In addition to the
"Save the Lake" campaign, Eagle County donated $500,000 to the cause, Great Outdoors Colorado provided funds, and political support came from Senators Michael Bennet and Cory Gardner as well as Representative Scott Tipton.
"This is one of the few times I've had government officials calling me asking how they can be invited to the meetings," Foulis says. "It was a combination of government and community-based support. It shows how everyone can work together on so many different levels to get something important done."