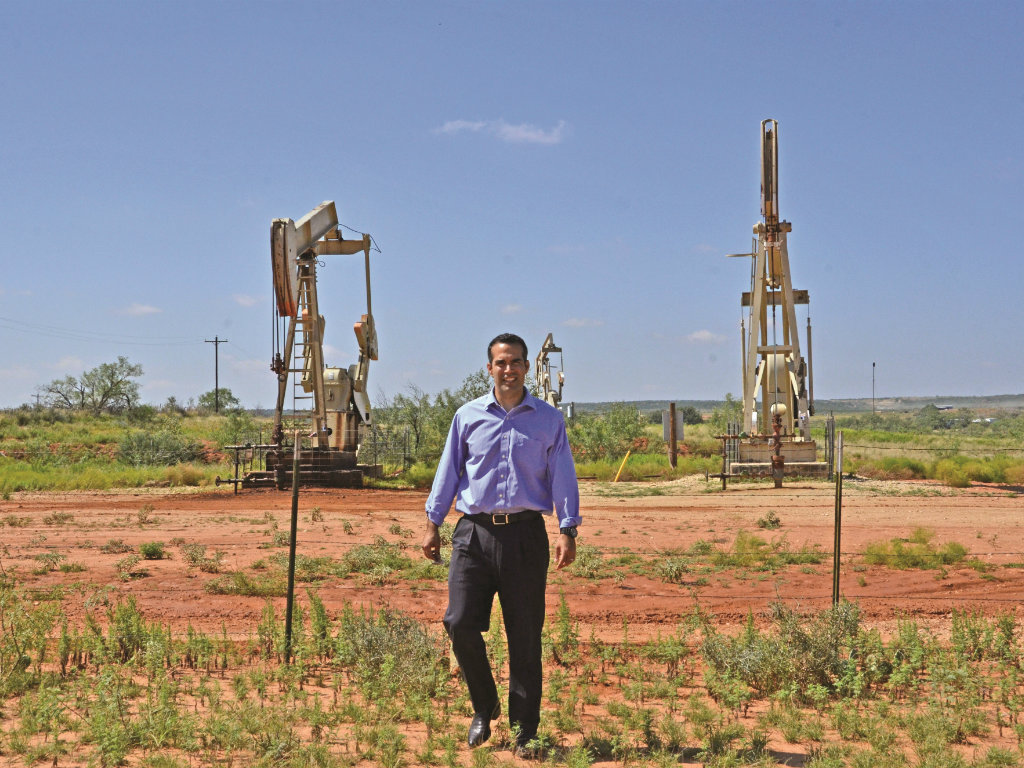 Original Photography by Gustav Schmiege III
MUCH LIKE HIS NATIVE STATE, the 28th Commissioner of the General Land Office is an intriguing blend of tradition and innovation. He wears cowboy boots – and an iWatch. His responsibilities include the Alamo – and the nation's top oil-spill response team. And just in case you weren't up to speed on his duties at Texas's oldest agency, George P. Bush manages 13 million acres of state lands and mineral rights. That's right – this guy knows land.
Q: It's been two years since you took the helm at Texas's oldest agency. Tell us some of the differences between running for Texas Land Commissioner versus actually running the General Land Office.
A: You're absolutely right. There's a huge difference between campaigning for office and actually leading. We have a pretty singular bias, and that's generating as much revenue as we possibly can for the schoolchildren of Texas. How can we fulfill that mission despite a 60 percent drop in oil and gas prices? The answer is we've leveraged today's technologies on aper-pound basis, per-acre basis to achieve 30X what the GLO obtained before I came in office.
Take, for instance, the online sale of oil and gas leases. Prior to taking office, the GLO handled lease sales the same way it had since back in the 1950s: sealed bids submitted by envelope. Thanks to our partnership with EnergyNet, the GLO has expanded its market online beyond local producers to create competition in the global marketplace.
What I'm trying to do is instill a private-sector mind-set in the agency. At least that's the philosophy that I try to preach to staffers up and down the chain. What distinguishes us from a regulatory body like the Railroad Commission here in Texas or the Department of Energy at the federal level is that we are a true market maker. We are an asset manager, and our bias is to make money for Texas schoolkids.
And we made close to $100 million with a lease-sale this past summer.
To be very candid with you, the initial reaction to the news of the Alpine High Play was one of pure elation. We almost fell out of our chairs when we heard the news. We did some initial "back of the envelope" analysis, and we forecast that the estimated ultimate recovery for the Permanent School Fund will amount to about $2 billion over the course of the development of the play.
If you were to ask mainstream geologists in terms of the economic viability of this development just a few years ago, most would probably ascribe very little, if no value, to that field. At the very least, they would say it doesn't make economic sense to develop the field, or something like that.
We have a great institutional-quality partner in Apache. With the recent settlement in terms of the types of laterals they will utilize under state minerals, it's a great benefit to the schoolchildren of Texas. But that's why I'm just super excited about the future. In terms of the future economic potential in the Delaware Basin, it is predominantly under our agency's rocks. So we are super excited about that. Now we're seeing frenetic bidding activity in that area, including Southern Reeves County and even in Central Culberson County, west of where we've seen a little bit of leasing.
The State of Texas set a clear mandate after Reconstruction to dedicate all revenues sourced through the state management of its surface rights. Remember, this was before Spindletop. So we couldn't really contemplate oil and gas production and what it has meant for public education, be it K—12 or postsecondary.
Q: Another responsibility of the GLO is to provide benefits to Texas veterans. This record of service goes back to the Texians and the Tejanos who served in the Texas Revolution. You yourself served in Afghanistan. How did that experience shape your approach to this duty?
A: It's on me, really, to educate the public, to work with the legislature, and to share our mission in support of Texas veterans. That's why I think it's important to travel the state outside of the session. Last year, we wanted to dedicate 100 scheduled events to military veterans. You name it, I went there: military installations, VFW posts, VA and DAV centers, American Legion conventions, and state cemeteries.
Our last trip of the year probably reflected that the best in the sense. We started off the day in Austin. Then we went to Bonham. Next was Amarillo. And then we closed it out back in Austin. Small state. I mean, my counterpart in Alaska is the only one who can give me a hard time.
I think the stories that Texas veterans will share with you, based upon this last year of traveling the state, have been generally positive. Part of it is that our Legislature and our leadership recognize the importance of securing the benefits and the privileges that veterans have earned through their service.
Today, we work with the federal VA on a variety of issues, so I think the role that I play is to hold them accountable as well as to also celebrate some of the successes that they've had and that we've had.
But there is a flip side to all this. It's something that I wrote about in an op-ed at the end of the year. It's what I call a sea of goodness. There are literally — I think we looked it up — over 10,000 nonprofit organizations that serve military veterans. And as a veteran myself, how do you make sense of it all? Which organizations are doing well by their donors, by their supporters, and can actually work with the Department of Defense and the federal Veterans Administration so that it's a seamless transition? That's a big part of the challenge: actually just making sense of it all and working through the labyrinth of goodness that's out there.
There are two major chapters in the story of the Veterans Land Board (VLB). One is at the conclusion of the Texas Revolution to award military veterans of all backgrounds, not only the Texians, but the Tejanos who fought against their brothers for liberation from Mexico as well as the folks who came from around the world, some for adventure, some for profit. And so the government at the time convened and commissioned the GLO to essentially manage veterans' affairs. Then, of course, after World War Two, when hundreds of thousands of young men and women came back from their service, the Legislature then codified it into law to say the VLB needs to provide basic financial services for military veterans. This was actually done before the federal Veterans Administration did so.
Q: One of the most ambitious undertakings during your tenure at the GLO has been the renovation and expansion of the Shrine of Texas Liberty. Not only is the Alamo a vibrant symbol of our state's heritage, but, from what I gather, the structure itself was in dire straits.
A: When I came into office, I was struck by an A&M report that showed that the archaeological structure of the Alamo was literally deteriorating before our very eyes. The management agreement with the Daughters of Texas was about to expire, so I knew I had to act.
I went to the Legislature and asked for a $30 million emergency appropriation, which we were successful in obtaining. Since that time, I reached out to San Antonio's newly elected mayor, Ivy Taylor, who's been a phenomenal partner to work with, as well as Bexar County Judge Wolff. Together, we are reimagining the whole Alamo experience.
Urban development had encroached to a point where there is no longer a sense of respect for what happened at the Alamo. If I see that, then I know that many of the 1.7 million people who visit the Alamo each year see the same thing.
Our master planner, George Skarmeas, oversaw the renovation of the US Supreme Court Building and the House of Commons at the Virginia State Capitol. Dr. Skarmeas has devoted his life to heritage planning throughout our country, so he's going to be an incredible thought leader for us. He will finish his presentation to the public at the end of this month. Then we will show it to the Legislature. I've asked for $75 million on top of the $30 million that we obtained last session. Our work continues, and we hope that we can do a better job to preserve this vital symbol of our state's history.
I think we got a really good price on Crockett Plaza, which was privately owned. For the record, the State of Texas, including our agency, does not have eminent domain authority. The Alamo Plaza, which is the real estate just west of the shrine itself, is owned by the City of San Antonio. So that will require a partnership with them to make that happen.
Q: Take a look in your crystal ball and tell us what you see. Where is Texas going resource-wise? What sort of opportunities is the GLO considering from a revenue standpoint? How will you continue to instill a private-sector mind-set at the agency?
A: When I graduated from Rice, I never thought in my wildest dreams that the United States would ever be a net exporter of oil and gas. I think it's safe to say that within my first term, perhaps my second term, that we will be not only a net exporter of gas but oil as well. I am astounded by that. Part of it was Congress getting rid of the export ban, but we also have a confluence of infrastructure developments taking place in the western hemisphere that benefit Texas uniquely.
One of my first trips after I got elected was to the Panama Canal, where I witnessed the expansion of the lanes and the locks firsthand. It's an extraordinary experience, to see these huge container ships that are three times the size that used to cross the canal now able to fit through. We will now be able to transport Texas oil and gas and to ship containers to China and to other markets. And the leadership there shared with me that 96 percent of Texas natural gas will be able to transit through the Panama Canal, as opposed to taking that long trip around the Straits of Magellan.
What this means for the Texas ports is nothing short of remarkable. In addition, Mexico is now an importer of Texas natural gas, and that is reinvigorating production in the Eagle Ford Shale. We have the chance to export cheap natural gas to Northern Mexico to help alleviate their energy shortages there. So Texas could very well be its own oil cartel along with Canada and potentially Mexico.
We must also consider renewables. I consider it a solemn responsibility managing the largest K—12 education-focused endowment in the world, and the General Land Office would be remiss if we didn't examine the opportunity renewables afford. Even though the core revenues of what we generate for the Permanent School Fund and the Permanent University Fund are oil and gas royalties, we've been approached by solar panel developers to examine the opportunities on state-owned lands in West Texas.
Texas now leads California in terms of wind energy production. Some of those leases are on state lands. There's obviously environmental consideration when you have migratory game patterns affected by wind farms. But having said that, wind energy offers us a diversification of our portfolio. And we learned that lesson the hard way with respect to the recent correction in oil and gas prices.
There's a myriad of alternative energy sources that we're examining, even geothermal. On a percentage basis, those revenues will increase. But as I said before, we're only going to do deals if they make sense. I may be a recovering lawyer, but that's one of my key takeaways from my private sector years.