The Land Report Fall 2010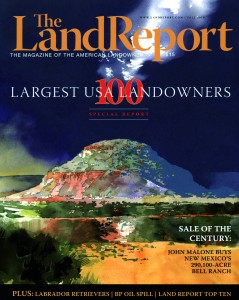 Enjoy the digital edition of the Fall 2010 issue of the Magazine of the American Landowner.
High Cotton
Take a cue from the guy who just sold the biggest ranch to close in the U.S. in the last 15 years. The first step? Find the right people.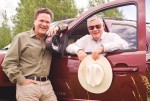 That fellow with the straw hat and the big smile to my left is Utah's own C. Patrick Bates. Although it may look like he's in the weeds, the truth is he's in high cotton. Pat had the listing on the Bell Ranch, and, a week or so before this picture was taken, John Malone closed on that 453-square-mile swath of Northern New Mexico.
Let me share a principle that has guided Pat throughout his 40 years as one of America's top ranch brokers. He doesn't start with the property. He doesn't start with the price. He doesn't start with his potential payday. He starts with the people.
Is that a little too warm and fuzzy for you? Is touchy-feely not your gig? Then keep in mind that Pat just spent four years shepherding the biggest deal to close since Ted Turner bought Vermejo Park from Pennzoil in 1996.
With that in mind, I'd like to single out my people.
To my partner, Eddie Lee Rider Jr., and to John Gibbs and our sales team: you complete me. You also pushed me, and our editorial team, to the edge, which is exactly what great magazines are all about. Well done.
To Katy Richardson, Nancy Myers, SJOK, Henry Chappell, Gustav Schmiege III, Wyman Meinzer, Tim Thimmes, and Tyler Funk, I hope you recognize how important your efforts are to producing this exceptional read. I do.
To my heavy lifters–Sharra Wilson, Wendy Conner, Cha Cha Weller, Janet Thimmes, Tim Robinson, and Carly Hancock–don't think for a moment that your efforts go unnoticed or unappreciated. Thank you.
Finally, I'd like to close with a word about the spellbinding watercolor that graces this issue's front cover. If it's not the most arresting piece of cover art you've ever seen, I won't be offended … as you long as prefer the 1975 issue of TIME that featured Elton John as "Rock's Captain Fantastic."
Both are the work of Don Weller, our incomparable design director.
Eric O'Keefe, Editor, The Land Report
Subscribe to our
monthly newsletter