The Land Report Fall 2022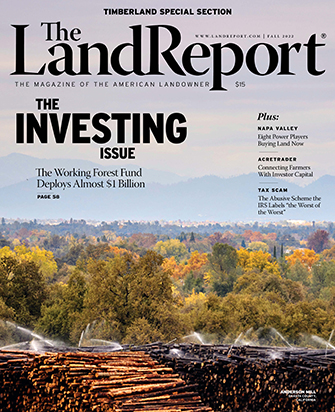 Investment opportunities headline our Fall 2022 Issue, which includes a Timberland Special Section:
Working Forest Fund: Keeping industrial timberlands intact by deploying almost $1 billion.
Napa Valley Power Players: These eight landowners are reshaping wine country.
AcreTrader: Meet the team using technology to bring investors and farmers together.
Syndicated Conservation Easements: The abusive tax scam Congress can't kill.
For up-to-the-minute reports on breaking news, follow us on Facebook, Twitter, Pinterest, and Instagram.
Subscribe to our
monthly newsletter