The Land Report Spring 2021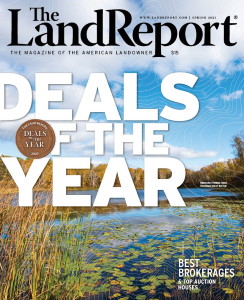 Congratulations to the 2020 Deals of the Year winners as well as to the America's Best Brokerages and the Top Auction Houses honorees featured in our Spring issue:
2020 Deal of the Year: The State of Florida buys the Bluffs of Saint Teresa in a $43 million acquisition that was five years in the making.
2020 Conservation Deal of the Year: The town of Trinidad plays a key role in establishing Colorado's Fishers Peak State Park.
2020 Timberland Deal of the Year: PotlatchDeltic sells Minnesota's Heritage Forest to The Conservation Fund for $48 million.
2020 Farmland Deal of the Year: Bill Foley doubles his holdings in Sonoma County by acquiring California's Ferrari-Carano Vineyard and Winery in a transaction valued at $250 million.
2020 Ranchland Deal of the Year: Michael Bloomberg acquires Henry Kravis's 4,603-acre Westlands in Northwest Colorado.
Subscribe to our
monthly newsletter