The Land Report Winter 2019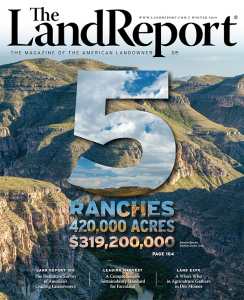 Ready for the 2019 Land Report 100?
For starters, we've got a brand new No. 2: the Emmersons, owners of Sierra Pacific Industries. The acquisition of more than 126,000 acres of California forestland moves them to second on the list, behind John Malone and ahead of Ted Turner. The sale of 311,000 acres of Maine timberland bumped No. 9 Peter Buck to No. 7 and dropped Birmingham's McDonald Family from No. 24 to No. 92. The Cullen Heirs — a storied Houston family — join the Land Report 100 at No. 28 with 388,000 acres. And did we mention that No. 8 Brad Kelley just put his 420,000-acre Brewster Ranches in Far West Texas on the market for $319.2 million? How's that for a cover story!
Subscribe to our
monthly newsletter