Ted Turner Launches the Turner Institute of Ecoagriculture
Ted Turner Launches the Turner Institute of Ecoagriculture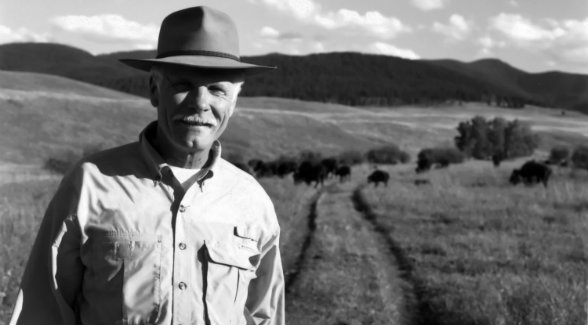 During his storied career, Ted Turner has demonstrated an ability to look around corners and identify opportunities long before they become apparent to others. His prowess has been demonstrated with pioneering media platforms, professional sports teams, global philanthropy, and encouraging a modern appreciation — as well as a bullish market — for America's national mammal, the bison.
Now Turner is peering into the future again, pondering how he can continue to make an enduring impact long after he's gone. With his latest big idea, he may have saved his boldest, most far-reaching deed for last. His new initiative, rooted in the Great Plains bioregion, focuses on how to better understand the complex systems that spring forth from earth and nurture man and beast.
In July, Turner, through his holding company, Turner Enterprises Inc., donated one of his prized bison ranches in the Sandhills of Western Nebraska, the 79,292-acre McGinley Ranch, to serve as the cornerstone of a brand-new entity called the Turner Institute of Ecoagriculture. The Institute will operate as a nonprofit "agricultural research organization" (ARO).
The Institute's objectives are to explore the intricacies of sustainable natural ecosystems and related human economies; to promote healthy soil, grass, water, and wildlife populations; and to help ranchers and farmers — the lifeblood of struggling rural communities — gain the technical assistance they need to survive in these challenging times.
"Ted started us down this road of thinking about sustainability decades ago, but back then it was based purely on instinct and his love of bison," says Mark Kossler, general manager of Turner's 14 Western bison ranches. The Institute will be a vehicle for showing how lessons learned from studying bison and the grasslands they rely upon can be applied at scale."
Created by Congress in 2015, AROs — agricultural research organizations — function as a novel class of public charity devoted to research and sharing findings for the benefit of society. Kossler explains that the Institute will examine all aspects of regenerative agriculture in the tall-, mixed-, and short-grass prairies where Turner ranches are located, and it will do so throughout production: from the microbial level of topsoil to the grazing practices themselves to the very food that consumers serve for dinner.
In all, Turner has a bison population numbering more than 45,000 animals spread across five different states. It is the largest private herd in the world. For years, Turner Ranches has undertaken in-house studies and experiments in rangeland management, restoration ecology, carbon sequestration, invasive weed control, animal nutrition, and the health benefits of eating bison.
The motto of Turner Enterprises is managing Turner lands in an economically sustainable and ecologically sensitive manner while promoting the conservation of native species. "The Institute is an outgrowth of that, big time," Kossler says. "The ARO status gives us an opportunity to work and collaborate with world-class science and research people from land grant universities, and to share insights that other landowners can utilize."
Turner, he notes, has always viewed his lands as laboratories for perfecting coexistence between humans and nature.
The Institute's first research partner is South Dakota State University's Center of Excellence for Bison Studies. Based in Rapid City at the West River Research and Extension facility, the Center was authorized by the USDA in the 2018 US Farm Bill. It formally launched in September 2020 as a partnership between South Dakota State University, the National Bison Association, and the National Buffalo Foundation.
When Kossler was hired to work for Turner in the early 1990s, the principle focus was on land acquisition to support a growing bison herd. He always said that Turner was not in the bison business but the grass business. "Based on what we've learned, I would amend that today," he says. "We're actually in the business of nurturing healthy soil because it is the building block of not just maintaining healthy ecosystems and agriculture. It's essential to the persistence of prosperous human communities."
The hope is that eventually the Institute will establish research projects on many of Turner's other ranches, but for now, the focus will be on the McGinley. "I'm really excited because this is really taking Ted's philosophy of 'Save Everything' to the next level because it puts humans into the center of the equation," says Carter Kruse, Turner Enterprise's director of Conservation and Science.
Over the years, Kruse has worked closely with Mike Phillips, the longtime director of the Turner Endangered Species Fund, to protect imperiled species on Turner ranches, and he has used bison as ecological tools to restore degraded watersheds and rangelands.
Among research areas are the resiliency and adaptability of bison in times of climate change, their role as habitat creators in prairie ecosystems, and how the presence of native plants bolsters their immune systems and affects the flavor of their meat.
"We've become well-known for our conservation projects. But Ted always insisted that achieving scale was important because it's the only thing that will withstand the test of time," Kruse says. "The Institute greatly increases our ability to do meaningful research and share results."
Although the Turner Institute could potentially qualify for property tax exemption under current laws in Nebraska as a nonprofit, Turner himself says he's committed to continuing to support the local communities where his ranches are located.
Says Turner, "I believe that local property taxes provide essential support for services on which our ranches and communities depend. The Institute will continue to pay its share of taxes to support the local communities."