Pinon Canyon: Uranium Contamination?
Pinon Canyon: Uranium Contamination?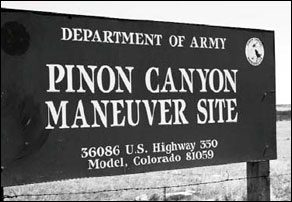 First, the Army set off a firestorm when it announced its intention to use eminent domain to condemn 400,000 acres of family farms and ranches in order to triple the size of the Pinon Canyon Maneuver Site. Then lightning strikes ignited wildfires at Pinon Canyon that burned out of control on almost 50,000 acres on and off the range. Now a Colorado state representative is alleging that soil samples he recovered off the Fort Carson training facility last year show evidence of possible uranium contamination.
This latest controversy surrounding the Southern Colorado Army installation was sparked by Colorado state representative Wes McKinley (D-Walsh), who made a name for himself as the foreman of the federal grand jury that investigated the Rocky Flats nuclear weapons plant just south of Boulder. Now, according to a report in the Colorado Springs Gazette, Rep. Walsh has followed up on rumors about the dumping of toxic materials at the 238,000-acre Army facility by having four different soil samples tested. The results showed traces of uranium.
"I certainly don't think Congress should be thinking about expanding Pinon Canyon until we get answers to the questions about where the uranium came from and whether that land needs to be cleaned up," McKinley said last week.
On another note related to the site, Congressman John Salazar (D-CO) succeeded in inserting language into the 2009 military construction bill to block the Army from spending any money on the expansion of Pinon Canyon for at least another year.