2023 Best Brokerages – West
2023 Best Brokerages – West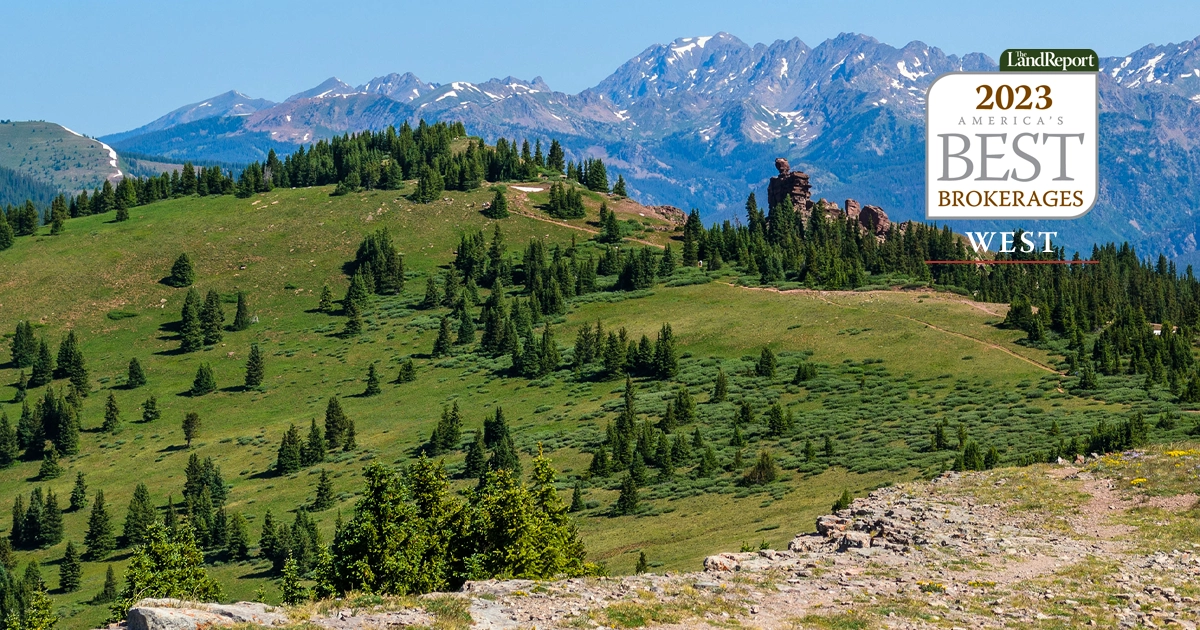 METHODOLOGY
The Land Report's annual survey of US land brokerages is based on the total value of self-reported 2022 domestic land sales through traditional brokerage. Totals exclude commercial, industrial, and residential assets, unless those assets were a component of a more valuable land asset. All figures were provided by respective firms from February 13 through March 31, 2023.
---
ARNOLD REALTY
ARNOLDREALTY.COM (307) 746-2083
2022 Sales: < $50M
Who: A husband-and-wife team in business for 33 years that specializes in the Black Hills. Licensed in Wyoming, South Dakota, and Montana. WOW: Represented a long-time client in the purchase of two ranches adjacent to his current acreage. He has now purchased 17 ranches with us.
What was your take on 2022? The demand for land was strong in the Black Hills area.
How is 2023 shaping up? After the frenzy of the last three years, marketing times have normalized. Listing inventory is at an all-time low.
BATES LAND CONSORTIUM
BATESLANDCO.COM (801) 521-4259
2022 Sales: $50M–$100M
Who: Since 1970, we have represented cattle ranches, farms, legacy recreational holdings, conservation properties, and commercial properties. Our firm is based on referrals and multigenerational repeat service. While operating mostly in Utah, Montana, Wyoming, and Idaho, we also have had significant marketing and acquisition assignments in Virginia, Georgia, Texas, Nebraska, and Saskatchewan.
WOW: Sold Red Cliff Ranch, located 20 minutes from Park City in the Heber Valley.
What was your take on 2022? It was the first year that we have represented more buyers than sellers.
How is 2023 shaping up? It is trending much like 2022 did, with fewer listed transactions but an increase in off-market transactions.
BERKSHIRE HATHAWAY HOMESERVICES BROKERAGE WEST
CODYLIVING.COM (307) 587-6234
2022 Sales: < $50M
Who: A full-service brokerage in Cody, Wyoming.
WOW: Sold a homestead near the Wyoming-Montana state line that totaled 19,370 acres with 4,370 deeded.
What was your take on 2022? The 2021 market trends continued into 2022 with a lack of inventory and climbing mortgage rates. Affordability was certainly a challenge, especially for local buyers.
How is 2023 shaping up? We are expecting a more balanced market with increases in inventory and sales, while prices continue to adjust.
CLARK & ASSOCIATES LAND BROKERS
CLARKLANDBROKERS.COM (307) 334-2025
2022 Sales: $250M–$500M
Who: Specializing in farm, ranch, and recreational properties across six states. We are represented by 23 brokers, associated brokers, and sales associates. We have sold more than 4 million acres and closed 90 percent of the properties we have listed.
What was your take on 2022? We had our most successful year to date with 126 transactions totaling 188,734 acres and more than $262 million in sales.
How is 2023 shaping up?
We have many buyers looking for property. However, inventory is becoming harder to find and will likely remain that way through the year.\
CLEARWATER PROPERTIES
CLEARWATERPROPERTIES.COM (800) 577-3013
2022 Sales: $250M–$500M
Who: With 35 office locations across Montana, Wyoming, Idaho, and Washington, we are the highest-sales-volume broker for Sports Afield Trophy Properties.
WOW: Sold Nevada Creek Ranch in Helmville, Montana. This scenic ranch offered 3,246 deeded acres plus 120 leased acres. Listed at $6.4 million, the ranch borders a Montana Wildlife Management area as well as tens of thousands of acres of national forest and state land.
What was your take on 2022? We had record sales with diminished inventory. Strong land sales continued through July. Then, following interest-rate hikes, the overall market volume began to flatten. But this resulted in only a slight rotation to a buyer's market, and final sale prices saw only slight reductions from the listing values.
How is 2023 shaping up? We anticipate that regional markets will continue to normalize with slightly increasing values and a continuation of very limited properties of quality.
CORDER AND ASSOCIATES
CORDERLAND.COM (833) 783-3224
2022 Sales: $100M–$250M
Who: We help clients find the finest farms, ranches, and recreational properties in Montana, Wyoming, Colorado, and North Dakota.
WOW: Represented a lifelong Montana family in selling their legacy farm in order to purchase a ranch on the foothills of the Rocky Mountain Front as their new endeavor, a total exchange involving more than 14,000 acres.
What was your take on 2022? People flooded the Rocky Mountain states as they sought seclusion and privacy in smaller communities and rural lifestyles.
How is 2023 shaping up? We predict that it will look similar to 2022, with returning clientele and investors joining new buyers hoping to take advantage of the slight increase in inventory.
EAGLE LAND BROKERAGE
EAGLELAND.COM (970) 249-4300
2022 Sales: $100M–$250M
Who: We connect buyers with premier ranches across Colorado. Our team can navigate even the most complex deals with our in-house tools and cutting-edge marketing.
WOW: Directed investors to an opportunity for purchasing a legacy family ranch that had not been available in nearly 100 years. The 2,121-acre property in Steamboat Springs had low hay ground to high mountain summer grazing and live water. In less than a year, all the land was parceled out and resold.
What was your take on 2022? We experienced strong sales. Since product was scarce, the individuals and investors who risked parceling their ranches into smaller ranches without diluting the integrity of their holding were clear winners. Buyers seemed to have reserves of cash, so long as they could find the product they wanted.
How is 2023 shaping up? Nearly all of our closed transactions have been cash. While the mass exodus to Western Colorado has slowed, the previous motivations are still in full swing. Land that provides privacy and security is as relevant as it has been in past years.
HARRIGAN LAND COMPANY
HARRIGANLAND.COM (303) 683-9090
2022 Sales: $100M–$250M
Who: A Colorado-based family business that has been serving landowners and buyers in the Rockies since 1992.
WOW: Buyer demand was so hot in 2022 that many of our properties never even reached the public market.
What was your take on 2022? Even with signs of economic uncertainty, 2022 was a banner year. Buyers were hungry for the stable investment of land, and had we not run short on inventory, our total sales volume in 2022 would have been our best ever.
How is 2023 shaping up? We have not seen a slow-down in buyer demand thus far. Rocky Mountain real estate remains a strong seller's market, largely due to a significant shortage of properties available.
LIVE WATER PROPERTIES
LIVEWATERPROPERTIES.COM (307) 734-6100
2022 Sales: $250M–$500M
Who: A ranch and land brokerage firm representing the sale and acquisition of properties that are significant recreationally, ecologically, agriculturally, and historically.
WOW: Represented the buyers of Colorado's Big Creek Ranch (a $40 million listing) and Wyoming's Fish Creek Estate (nearly $30 million). Also represented the seller of the Jackson Hole Ranch in Wyoming ($35 million) and the Harwood Ranch in Montana ($25 million).
What was your take on 2022? We had a strong year, selling 31 listings and representing 43 buyers. Limited inventory was the biggest inhibitor to total volume, keeping land values at a premium while the total number of sales and volume declined.
How is 2023 shaping up? A continuation of the 2022 market with buyers eager for new inventory and many off-market transactions.
M4 RANCH GROUP
M4RANCHGROUP.COM (970) 944-4444
2022 Sales: $100M–$250M
Who: We have been brokering ranch properties for more than 40 years.
What was your take on 2022? A robust marketplace for ranch sales with limited avail- ability of quality inventory.
How is 2023 shaping up? We have a strong stable of buyers aggressively pursuing Class A properties, but this likely will wane in the coming months, possibly greatly.
MASON & MORSE RANCH COMPANY
RANCHLAND.COM (877) 207-9700
2022 Sales: $100M–$250M
Who: We specialize in large farms, land, and ranches for sale across the West, with licensed agents in 13 states.
WOW: Sold North Platte River Ranch in Sinclair, Wyoming, with 92,447 acres of deeded and leased land combined in one contiguous block.
What was your take on 2022? The market remained active for quality farms, ranches, and agricultural lands. It was not as robust as 2021, but it came very close. Higher interest rates are slowing the smaller parcel acquisitions that need to use debt.
How is 2023 shaping up? Listing inventory will be extremely tight for all asset classes, putting upward pressure on values.
MIRR RANCH GROUP
MIRRRANCHGROUP.COM (720) 792-5199
2022 Sales: $100M–$250M
Who: A ranch real estate brokerage firm specializing in legacy ranches and sporting properties. We are accomplished in handling complex transactions for conservation-minded buyers.
What was your take on 2022? After the feverish market that sprang out of the pandemic, inventories of high-caliber ranch properties reached historic lows. There were signs of a normalization of the market during the fourth quarter, with Colorado seeing the low- est volume of quarterly land sales of more than 50 acres in the past three years.
How is 2023 shaping up? Low inventories are still influencing the market. There is no evidence to suggest ranch values are trending down. Good quality ranches that have all the important attributes sell quickly and have not lost their value. But that is not to say that properties are appreciating greater than 2022 values, as bank failure and inflation are having an impact on buyers' psyches.
MOSSY OAK PROPERTIES COLORADO MOUNTAIN REALTY
COLORADOLANDCABINS.COM (719) 686-8744
2022 Sales: < $50M
Who: We specialize in moun- tain land and ranchland.
WOW: Sold the 880-acre Slash J Slash Ranch in Granby, Colorado, for $9 million.
What was your take on 2022? It was a great year but not nearly as great as 2021.
How is 2023 shaping up? We are hoping for lower interest rates.
NEWMAN REALTY
NEWMANREALTY.COM (307) 532-7131
2022 Sales: < $50M
Who: An accredited land consultant specializing in ranch sales in Wyoming, Nebraska, Montana, and South Dakota.
WOW: Sold the 8,551-acre Lay Trust Ranch north of Torrington, Wyoming. A true cowboy ranch, it has hard grass, scenic vistas, trophy deer, and live water.
What was your take on 2022? There was optimism but very little inventory.
How is 2023 shaping up? We're looking for sellers.
POWERS LAND BROKERAGE
POWERSLANDBROKERAGE.COM (307) 217-2777
2022 Sales: $50M–$100M Who: Our primary area of focus is selling production ranches and premium mountain properties in Wyoming and Montana. We are based in Sheridan but licensed from Alaska to Georgia.
WOW: We launched a subsidiary business specializing in experience-based assets.
What was your take on 2022? The ranch real estate market in the Rocky Mountain West was still very strong. Inventory was low, so many deals got done behind closed doors.
How is 2023 shaping up? We think the theme this year will be the continued instability in the financial sector and stockpiles of cash seeking appreciable assets that provide lifestyle benefits.
PREMIER LAND COMPANY
PREMIERLANDCOMPANY.COM (406) 259-2544
2022 Sales: $100M–$250M
Who: We specialize in ranches and recreational properties throughout Montana.
WOW: Premier Land Company launched Trophy Lands Management, a full-service management division offering customized services for recreational properties.
What was your take on 2022? We exceeded our annual goals in a competitive market. A lack of inventory and increased interest from buyers led to a bullish market on a statewide basis.
How is 2023 shaping up? The first quarter continued to demonstrate the resilience of buyer demand.
RAICH MONTANA PROPERTIES
TRACYRAICH.COM (406) 223-8418
2022 Sales: $50M–$100M Who: An independent brokerage located near Yellowstone National Park in Livingston, Montana.
WOW: Represented the seller of the Yellowstone River Ranch (Double AA), which encompasses 1,443 acres, has 3.55 miles of river frontage, and is protected by a flexible conservation easement.
What was your take on 2022? A seller's market with demand exceeding inventory. How is 2023 shaping up? We continue to have extremely low inventory in our market but anticipate a good year for those seeking to sell and purchase exceptional properties.
RANCH & RESORT REALTY
RANCHRESORTREALTY.COM (970) 734-7885
2022 Sales: $50M–$100M
Who: A boutique firm in Steamboat Springs that specializes in Northwest Colorado ranches as well as resort properties.
WOW: Sold 4,860-acre Big Creek Ranch. At $39.9 million, it was Routt County's largest sale in 2022.
What was your take on 2022? We continued to have a shortage of inventory, with plenty of cash buyers ready and willing to buy. Prices remained high, although days on the market increased.
How is 2023 shaping up? It is looking a lot like 2022, with more off-market properties under contract than listed properties. Sellers are still able to get a premium.
SWAN LAND COMPANY
SWANLANDCO.COM (866) 999-7342
2022 Sales: $50M–$100M
Who: A ranch, farm, and recreational land sales company serving Colorado, Idaho, Montana, Nebraska, Utah, and Wyoming.
What was your take on 2022? Our region continued to have high levels of buyer demand. The bigger challenge was lack of inventory. In Montana, we were down approximately 50 percent from historic highs in listing properties of 200 acres or more.
How is 2023 shaping up? We are on track to exceed our normal number of company listings, an encouraging sign going into summer.
UNITED COUNTRY NORTHWEST REALTY & AUCTION
NORTHWESTRANCHLAND.COM (406) 654-2881
2022 Sales: $50M–$100M Who: We specialize in the sale of farmland ranchland, as well as hunting and recreational properties in Northeastern Montana.
WOW: We worked as a dual agent on 90 percent of our sales in 2022.
What was your take on 2022? We saw an influx of investors from outside the state purchasing land and leasing it back to area producers. This trend has allowed agriculture to continue in our area instead of having farms and ranches subdivided.
How is 2023 shaping up? High demand for large tracts of land with limited inventory. Prices are staying strong, and properties are selling quickly.
WESTERN RANCH BROKERS PUREWEST CHRISTIE'S INTERNATIONAL REAL ESTATE
WESTERNRANCHBROKERS.COM (406) 589-4160
2022 Sales: $100M–$250M
Who: We have extensive knowledge of Montana and have developed expertise in navigating private ranch transactions, connecting high-net-worth buyers with the right off-market opportunities.
WOW: Completed several off-market transactions, including a Bozeman ranch owned by the same family for 127 years. The sale closed at $14.5 million. We represented both the buyer and seller.
What was your take on 2022? The unprecedented demand for Montana property has resulted in some of the lowest real estate inventory levels in decades, creating an incredibly tight market for ranches. Although the number of sales and average sales price decreased compared to 2021, the premium value of Montana land kept total sales dollars strong. The increase in off-market transactions escalated in 2022.
How is 2023 shaping up? Steady demand and limited supply of Montana ranches will likely continue. This extends the opportunity for sellers to take advantage of record-breaking land values in the spring and summer sales season. We saw an upward trend in new listings in the first quarter. The high demand from buyers seeking Class A properties will undoubtedly continue to influence the popularity of off-market sales.