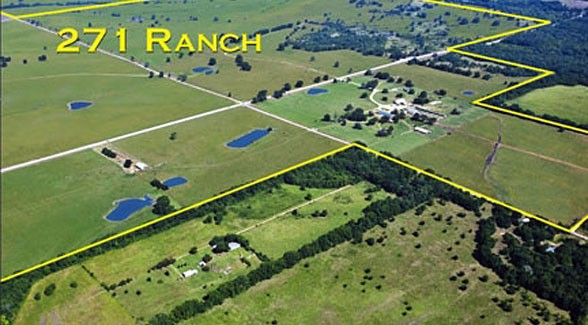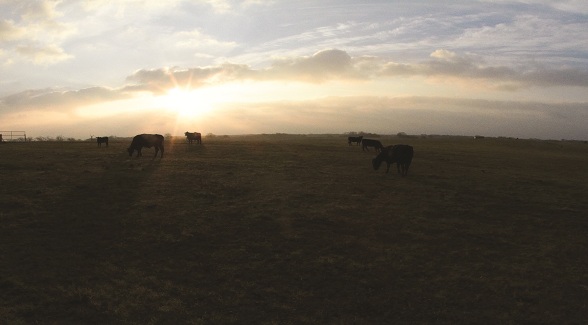 To the untrained eye, the first signs of trouble at Camp Cooley Ranch materialized in April 2008. That was the spring the USDA's National Veterinary Services Laboratories announced that one of the thousands of cows on the iconic Central Texas ranch had tested positive for a deadly disease.
Bovine malignant catarrhal fever is no ordinary virus. It's the sort of dreaded malady that experts only refer to by its abbreviation: BMCF. Why? Because bovine malignant catarrhal fever is as bad as it sounds. No known cure exists.
Although BMCF causes no havoc to its host — in this case, a wildebeest in the ranch's exotic game preserve — it can be lethal to ungulates such as cattle and bison.
And herd losses can be devastating.
The USDA's subsequent quarantine order was a brutal blow to Klaus Birkel. Camp Cooley's owner had pledged his ranch's most valuable assets — its mineral rights, his prized genetics, and of course the land itself — as collateral for a number of other investments. In the aftermath of the quarantine, two lucrative cattle sales were postponed. Then the entire 3,000-head Camp Cooley herd was sold off.
Defaults and vicious lawsuits followed. By November 2009, Birkel's Camp Cooley Ltd. had been brought to its knees. Bankruptcy protection was not just Birkel's best option. Given the dire circumstances, it turned out to be the only viable option. Unfortunately, Birkel's timing couldn't have been worse.
Caught between the Great Recession and Europe's sovereign debt crisis, the US economy was on life support. Foreclosure numbers had skyrocketed. Unemployment figures were soaring. Every statistic pointed to a worst-case scenario, including the market for Texas farms and ranches.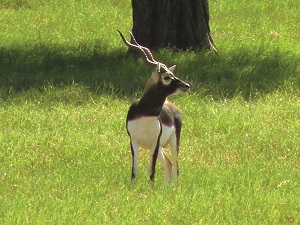 By the time Camp Cooley Ltd. filed for Chapter 11, rural title companies were devoid of activity. For more than a year, overly optimistic sellers and squinty-eyed bottom feeders had been staring each other down. Neither group flinched. In 2009, the number of land deals in the Lone Star State plummeted to its lowest level in 15 years.
"It has been very difficult the last few years to sell anything of any size," says Charles Gilliland, a nationally known specialist in rural land at Texas A&M's Real Estate Center. As proof of this point, Gilliland singles out the saga of New Mexico's Bell Ranch, which Orvis Cushman & Wakefield brought to market in 2007 at a sky-high listing of $120 million. Two years later, the sellers not only lowered the price, but they tacked on an additional 40,100 acres to entice prospective purchasers. Another year passed before the ever-shrewd John Malone, CEO of Liberty Media and the nation's largest landowner, snapped up the Bell for half the original ask.
It goes without saying that Camp Cooley can boast neither the size nor the history of the storied Spanish land grant. But it does possess three attributes that have never been attributed to the Bell: location, location, and location.
Named for a Civil War muster point, the 10,600-acre cattle operation was patiently pieced together from 40 separate tracts by a Houston businessman who had made his fortune in the liquor business. Bert Wheeler poured his profits from bourbon and beer into his ranch on the Navasota River just a short drive from his Houston home. Among major Texas ranches, Camp Cooley is a standout in this regard. It features unparalleled proximity to the state's major metropolitan areas: 130 miles to Houston; 150 miles to Dallas; and 180 miles to San Antonio. At just a little over an hour and a half from Austin, is it any surprise to learn that at some of Bert and Mae Dean's parties, the guest list ranged from royalty to the likes of Senator Lyndon Johnson and Governor John Connally?
Klaus Birkel purchased Camp Cooley from the Wheelers in 1991. A native of Germany, Birkel had first visited the ranch the year before on a hunting trip. Impressed with the opportunity, he added his own flair to the ranch's tradition of hospitality. It wasn't uncommon for Birkel's cattle sales to draw as many as 1,000 guests to the ranch. But to its new owner, Camp Cooley was not just a getaway. It was his life's work.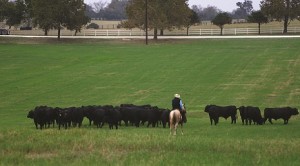 After taking title to the ranch, Birkel implemented a massive campaign to enhance and improve existing operations. In the years that followed he methodically invested nearly $20 million in a long list of essential capital improvements, upgrades that every landowner dreams of doing: developing water wells, burying miles of fiber optic cable, updating irrigation systems, adding pens, and upgrading the existing exotic game preserve. Birkel's crews improved pastures, put in new fencing, and modernized existing houses, outbuildings, and other infrastructure.
In a 2011 interview with the Bryan-College Station Eagle, the ranch's former VP of marketing described the effects of Birkel's investment. "All levels of education and skills were employed at the ranch, and there were easily more than 50 employees at one time," Joe Fuller said.
Thanks to Birkel, Camp Cooley now has 7,500 acres of improved pasture, 200-plus miles of fencing and traps, a large main house, a 17-room executive office facility, a sales pavilion, a mechanical shop complex, a computerized fueling system, and staff housing. It is home to one of the state's first exotic game preserves, featuring a variety of African and Asian species including sika, fallow deer, impala, and eland.
Birkel's crowning achievement was a seed-stock operation that specialized in registered Angus, Brangus, and Charolais bulls. To maximize quality, he developed state-of-the-art genetics. In 1998, two calves were successfully cloned by scientists at Camp Cooley. At its peak, Camp Cooley Ranch penned and pastured 4,500 cow-calf pairs and 2,000 bulls.
"I think our biggest achievement is we brought a lot of service and support to our customers to make them successful," Birkel told the Bryan-College Station Eagle. "Not only genetic-wise, but consulting. How they should manage their ranch. How they should do their breeding program."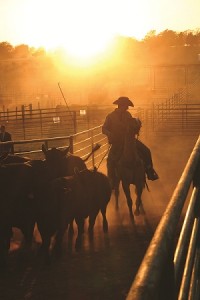 The end result was a cash cow. Despite its 2009 bankruptcy filing, Camp Cooley's farming operation ginned almost $1 million in revenues in 2010. The ranch's hay fields produced 79,533 square bales and
3,253 round bales. Another $2 million came from minerals, grazing leases, and hunting income. Despite these numbers, Birkel was at wits' end. Neither he nor his creditors had been able to agree on a path forward. In late 2010, the embattled landowner took a cold call from a man whose in-laws owned a ranch not far from Birkel's. The most memorable aspect of their conversation? The caller's thick Australian accent.
Over the last two decades, Bernard "Bernie" Uechtritz has made a name for himself at the highest levels of the real estate industry. Like "The Wolf," Harvey Keitel's character in Pulp Fiction, Uechtritz is a fixer, one whose expertise ranges from luxury and ranch real estate to conservation and land stewardship. He has even brokered financing deals for media properties such as RFD TV.
Remember the Menendez brothers? Following their convictions for murdering their parents, prospects didn't queue up to tour one of the family's properties. On top of this stigma, the U.S. was in an economic downturn, thanks in large measure to the savings and loan scandal.
Stephen Goldberg was the lead lawyer of the Menendezes' estate. After several years, the L.A. attorney was running out of options. Not one broker had been able to sell the residence. Out of the blue, a rookie real estate agent cold-called him and said he wanted to market the Menendez home.
"Bernie just came in and said, 'I can do this.' We'd already had some of the more established people try to sell it. Was Bernie qualified on paper to handle that sale? No. Did he do a great job? You bet. He wasn't afraid to spend money," Goldberg says.
In what would become a signature first step, Uechtritz developed a marketing campaign that targeted affluent buyers from around the world. Within a month, he handed Goldberg a signed contract.
"Bernie got offers on the table through unconventional means, pushed forward, persevered, and got it done," Goldberg says.
Uechtritz later joined forces with Martin Sheen, Rob Reiner, and other Hollywood heavyweights to save the Ahmanson Ranch from development. Starz CEO Chris Albrecht, who was chairman and CEO of HBO at the time, spearheaded the effort.
"If that ranch had been developed, Bernie would have made a killing. He was one of Los Angeles's top brokers, yet he came down on our side. I thought to myself, 'I can count on this guy,'" Albrecht says.
Uechtritz's upbringing in Papua New Guinea was ideal preparation for his chosen career. Born in Australia, he grew up on a cattle station, the eighth of 11 children born to Papua New Guinea pioneers Alfred and Mary Lou Uechtritz. The remote setting had much to offer, both in terms of lore and lessons.
During World War II, the family's plantation was occupied by the Japanese. Famed anthropologist Margaret Mead did research locally and became a close friend of the family.
"In Papua New Guinea, my father was a great peacekeeper among all peoples, black and white," Uechtritz says. "Dad was called upon to negotiate everything from tribal land deals to cattle trades. I watched him intervene in fights between warring natives with axes raised and arrows flying."
After studies in Australia and New Zealand, he returned to Papua New Guinea to manage a cattle station and plantation for Sir Michael Bromley and Sir Dan Leahy.
"Looking back at it, we were absolutely bloody crazy. I can't believe Danny and I entrusted that entire operation to Bernie. He must have been just 17, but he was our key man. The Markham farm was the heart of our business. Each week, it's how we stocked our trading stores with beef. We brought Bernie on board as an interim manager until we could find a more senior man. Only he never left! He was in charge of hundreds of workers and millions in equipment. He developed thousands of acres of coconuts, cocoa, and oil palm. And of course we had cattle and buffalo. That boy grew up fast," Sir Michael says.
Overseeing crews of plantation workers, Uechtritz acquired the negotiating skills he'd later need to broker contentious land deals. "Everything is fiercely negotiated in New Guinea, and I often found myself in the role of mediator," he says. "The price of a bride, compensation for stolen pigs, trespassing, you name it. Negotiating is negotiating, and that's some of the toughest I've done."
In 2004, Uechtritz and his Texas-born wife, Annie, relocated their four children from California to North Texas. He hung his shingle with the Farm & Ranch Division of the venerable Dallas firm Henry S. Miller.
Two years later, he brokered the sale of 1,700-acre HTC Ranch near Tyler, Texas. It, too, had its share of hurdles. When his seller refused to allow the buyers access to the ranch for final inspections, Uechtritz responded by hiring a seven-seat helicopter and gave them a complete aerial inspection of every fence and building.
Afterward, he directed the helicopter to touch down on the no. 1 green at Tyler's Cascades Country Club where Uechtritz proceeded to treat his clients to a deluxe catered lunch. Not surprisingly, they closed the deal. The new owner has since developed the ranch as the Texas Rose Horse Park.
Although every transaction presents its own challenges, Uechtritz finds himself drawn to properties he calls "white elephants." Whether it be a contentious divorce or a complicated bankruptcy, he has developed a knack for peeling back "the layers of the onion." At Camp Cooley, he would be tested as never before.
By the time Uechtritz entered the fray, the negotiations were marked by acrimony and ill will. "We were looking at bad blood, a bad economy, and the worst drought on record," Uechtritz says. Uechtritz's first move was to entice the creditors with an aggressive sales strategy. Raymond Battaglia, lead bankruptcy attorney with San Antonio's Strasburger Price Oppenheimer Blend, represented Klaus Birkel and Camp Cooley Ltd.
"We had this strange stew of complications," Battaglia says. "Camp Cooley was in bankruptcy, and of course everyone knew that it had to sell. The relationship between the debtor and the creditors was clearly adversarial. Bernie and I had to convince them that we had a common goal: to monetize the asset for the best price we could get. Bernie, with that Australian accent and gregariousness, is a great player in that respect. He has the ability to talk to people and bring them together."
Battaglia is not the first member of the legal profession to recognize this gift. "Bernie does have a good bit of persuasive personality," Goldberg says.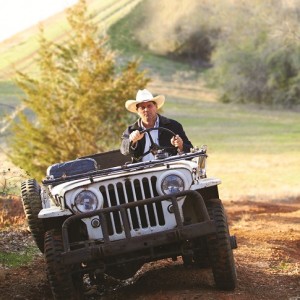 Initially, Uechtritz's marketing plan worked like a charm. "The first thing you have to do is bring the wolves out of the woods. You've got to identify the folks who have always wanted to buy the ranch but were waiting to buy it from the bank. You have to figure out who's working the back door and bring them through the front instead. The next step is to find out who's sitting on the fence and then convince them to put their cards on the table," he says.
To that end, he studied blogs, talked to locals, and tracked down brokers who had tried, and failed, to market Camp Cooley. "You must go 180 degrees from what every broker has tried before, even if that means being controversial," he says.
"Bernie operated at the bank officer level, and I was worked at the lawyer level, and all the while we had to manage the client's expectations," Battaglia says.
Potential buyers expressed interest and made offers, but when a junior lienholder leaked details of the settlement, the calls stopped coming in. More than 40 creditors had a stake in the deal with Amegy Bank and Lone Star Bank the largest. The creditors posted for foreclosure; the case went back to bankruptcy court.
Uechtritz's next challenge was to convince Judge Ronald King not to foreclose. He urged the Chief Bankruptcy Judge to allow the ranch to be offered at auction.
"The most likely alternative would have been for the banks to foreclose," Uechtritz says. "The vultures could have gone straight to the banks and paid 25 cents on the dollar. Sure, most of the big creditors would have recouped a bit of their money, but the smaller lienholders – the mom-and-pop feed stores and the small contractors down the list – they would have been out of luck."
Uechtritz also stressed the interests of landowners in Robertson County. "Think about it. If Judge King had allowed Camp Cooley to be foreclosed, it would have decimated property values. In Central Texas, Camp Cooley is the gold standard. Fire sale that ranch, and everybody loses. It's as simple as that," he says.
Ronald King ruled that Camp Cooley would not be foreclosed. Instead, he set a sale date of August 4. The fact that this was just 45 days later was the least of Uechtritz's worries.
How do you go about interesting qualified buyers in a multimillion-dollar property that is tainted by quarantine, bankruptcy, and acrimony?
Uechtritz began his prep work. First, he hired Hall & Hall Auctions to conduct the actual auction. Then he began reaching out to prospective buyers.
"Bernie obviously knew ranches. He knew the iconic, unique characteristics of this property. He certainly had experience with properties that were comparable in appeal to the marketplace," says Robert Albergotti, a partner at Haynes and Boone, which represented Amegy Bank.
"Bernie was the one who did all the reaching out to potential buyers," Albergotti adds. "He never overpromised or underdelivered, which is a good way to run your business."
By the fate-filled Thursday, Uechtritz had invited 22 pre-qualified buyers; that afternoon 17 made their way to the ranch. "The sale was extremely well attended," Albergotti says. "There was a lot of interest, and there were a lot of bidders there."
Suddenly, everyone began looking at their cell phones. Bidders got up and stepped outside to take calls. Unemployment numbers had driven down the Dow more than 500 points. Even worse, oil and gas prices were falling sharply.
But Uechtritz had made sure that those in attendance were not fair weather buyers. In addition, he knew Camp Cooley was no ordinary opportunity. He worked the room. Only once in the previous six decades had it changed hands.
As soon as the bidding started, concerns about Wall Street tailed off. Bidding on the surface rights, the royalties, and the entire ranch was spirited. From start to finish, the 2011 Deal of the Year took less than an hour to close at $28.5 million as Circle X Land & Cattle Co. prevailed.