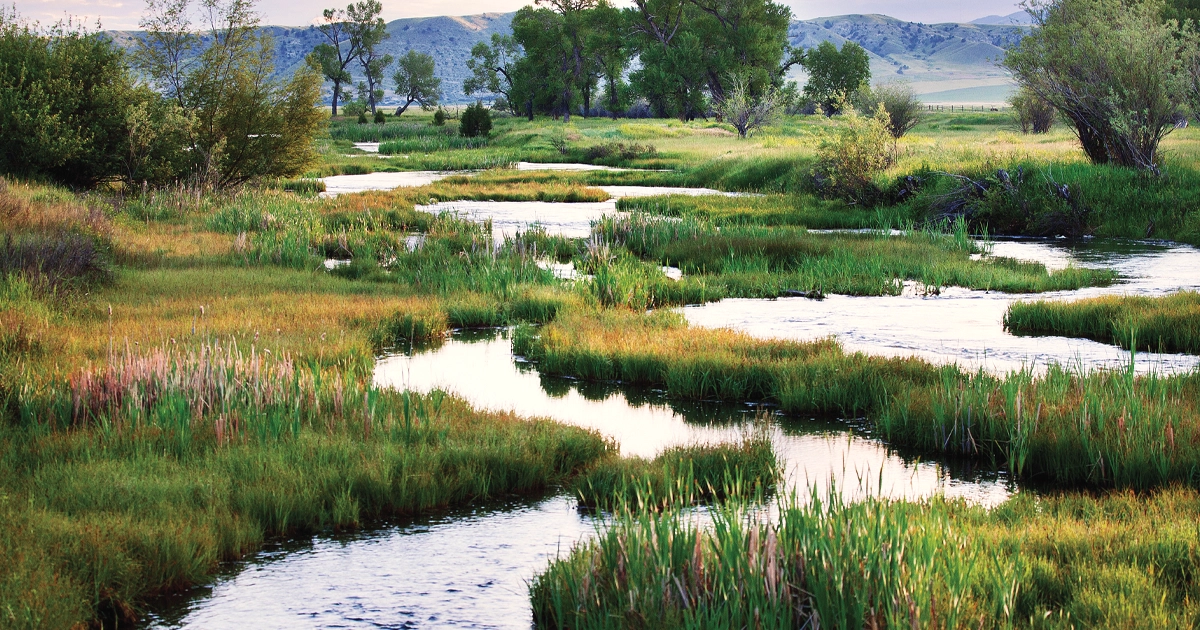 Encircled in a panorama brimming with puffy cumulous clouds and camel-humped hills, Robert Keith's silhouette brings to mind a plein air artist finishing up an ambitious landscape. In so many ways, it's an apt metaphor for thinking about how this financial asset innovator, who earned his chops with Morgan Stanley on Wall Street, practices his craft today.
BEARTOOTH GROUP
When it comes to navigating the intersection of land, wildlife, agriculture, and profit, Keith is a master of divining the art of the possible. He and his team at Beartooth Group have proven themselves to be alchemists of sorts, transforming overlooked and, in many cases, degraded Western properties into coveted treasures.
For years, I had heard about Keith's prowess in returning profits to investors while advancing the cause of conservation. My curiosity led me to rendezvous with him some 40 miles from his Bozeman office. Before us, wending Willow Creek coursed by an old ranch house given new life. Beartooth Group had acquired, restored, and then sold the property to a conservation buyer searching for a perfect spot to fly fish, hunt birds, and practice regenerative agriculture. In Keith's eyes, the magic of the parcel was heightened by its connection to human and natural history.
THE LAND
"What you're looking at was referred to as 'The Philosopher's River' by Sacajawea, Meriwether Lewis, and William Clark when they journeyed through this country in July 1805 on their way to reach the Pacific and report back to Thomas Jefferson," Keith tells me. He adds that Willow Creek merges downstream with a more famous river, one whose name honors Lewis and Clark's commander in chief. The Jefferson is one of three rivers — the other two being the Madison and the Gallatin — that converge to create the birthplace of the Mighty Missouri.
Keith's toolkit includes far more than the tried-and-true abilities to determine future land values, gauge potential markets, and calculate IRR (internal rate of return) and ROI (return on investment) for savvy investors. I challenge you to name another private investment manager who considers Lewis and Clark's journals due diligence.
Until the middle of the 19th century, Willow Creek was a wildlife-rich wetlands, lined with lush trees that attracted herds of moose and colonies of beaver. Depending on the season, migrating elk would have traversed the uplands, threading a path through thousands of scattered bison as well as pronghorn and resident grizzlies.
In the 19th century, settlers homesteaded this singular terrain. Gradually, it was converted into a working ranch that produced cattle, alfalfa, and commodity crops. In time, the natural contours of Willow Creek were straightened and channelized. Too many cattle were allowed to graze to the stream's edge, trampling banks and turning stretches of cool, clear-flowing water into muddy bogs. The willows disappeared. A natural spring was ultimately entombed by large piles of dirt. The diminished habitat and warmer waters subsequently took a toll on the once-thriving wild trout population.
Yet when Keith and his colleagues — Carrie Faulhaber and Tom Groneberg — first walked Willow Creek, they didn't see a tarnished asset. Rather, they recognized the dormant potential of a more vigorous agricultural component coupled with a rejuvenated wildlife dimension. The key to this value chain would be bringing the water course back to life.
Today, the 768-acre Willow Creek Preserve has 2 miles of restored trout water, a laudable achievement considering that the channeled creek was only 1.5 miles long when Beartooth first acquired the ranch. As any broker worth his salt will tell you, that additional half-mile of stream frontage can be measured in dollars and feet. The creek passes an old farmhouse, where willow seedlings now provide shelter for a resurgent trout population, and uplands, where a regenerative agriculture operation is now in place.
Beartooth's approach highlights a paradox that Robert Keith admits runs counter to the way working lands have long been managed: It's not what one takes from the land that determines its value. What one leaves or puts back can be equally, if not more, valuable.
THE STRATEGY
Traditional brokerages dream of pristine properties. Beartooth Group's niche is the opposite extreme: identifying ranches that have suffered from neglect or overuse, securing them at a fair price, investing in their restoration, and offering buyers the chance to experience paradise redux.
Beartooth Group bills itself as "a boutique private investment and advisory firm." It's a self-deprecating description given that the firm has sustainably managed an area larger than the city of San Francisco, restored 52 miles of creeks and rivers, and safeguarded or protected a land mass 50 percent larger than Manhattan (the one in New York, not Montana).
The firm exhibits no timidity, however, in declaring that its ethos is driven by an institutional attentiveness "to environmental ethics and consciousness." The main tenet of its approach to impact investing is to demonstrate that making money and doing what's right for the wild and pastoral character of the Northern Rockies are not mutually exclusive. Literally, Beartooth Group's operational motto is "We restore, enhance, and steward the American West through investment in people and places."
Beartooth is really good at finding ecologically important ranch properties in need of repair and then fixing them. More recently, the company has worked on a limited basis to assist conservation-oriented buyers acquire properties and then manage them to increase conservation and financial values.
FIRST STEP:
THE SELLERS
Just over half of the acquisitions that Beartooth Group has made involve landowners who have tired of recreational properties. The other half involve longtime ranchers. A common scenario has some heirs wanting to cash out while others want to maintain ownership. Among the latter, many have a strong desire to keep the land intact and make investments in enhancing natural features that might have been neglected. These are the owners that Keith most enjoys working with in an effort to find a creative solution for all involved.
"Beartooth Group likes to sit down with sellers to craft creative solutions," Keith tells me. "We've given sellers the option to have their kids buy the ranch back from us in the future while giving the parents the peace of mind and the cash to retire today. We've structured deals so that sellers participate in the value we create. We've taken incredibly complex partnerships and simplified them. We're always looking for the win-win."
The firm takes pride in working with sellers who want to find a creative or unique solution. "Some days I feel like an estate lawyer or a mediator between siblings or partners. We take complex situations and then try to maximize the value for everyone involved. In one single transaction, we bought out nine different partners and offered one partner ongoing recreational access and an option to buy the ranch back from us in the future. We can be really flexible for sellers," Keith says.
There's definitely a down-home aspect to this strategy. "We have brainstormed around the kitchen table with many different ranch owners. Some of the ideas work out. Some of them don't," he says. "The most important message to get out there is that there are more solutions than just throwing in the towel, calling it quits, and moving on. If my parents told me that we had to sell our family ranch, I'd cry. Thus, I'll do my darndest to try to come up with a way to help others in the same situation."
SECOND STEP:
THE INVESTORS
Beartooth Group may well be the only private equity firm with this ethos in the Northern Rockies. Over the last 15 years, it has had a pioneering influence in promoting market-oriented conservation solutions that reward investors.
Skip Herman, a Beartooth Group investor, describes himself as a "semi-retired lawyer" and "insane fisherman" who has owned properties in Montana for more than two decades, including a ranch near Big Timber where he spends most of his time. It's located between the Crazy Mountains to the north and the Absaroka-Beartooths to the south and west.
Most investors keep specific benchmarks in mind while allocating capital. "I decided a criterion important to me is achieving a positive impact, not only for the environment but for social causes that improve peoples' lives," Herman says.
Indeed, while more and more firms tout impact investing, it is the imperative of Keith and his partners that the results be tangible — for the investor, the property seller, and the property buyer. Without question, each comes at it from a different angle and with different goals.
Herman cites an additional investment dividend. "Trout don't live in unattractive places. To me, when you step into a stream — a living, healthy stream — time disappears," he says. "The pace of life changes. Coming from my professional life where things move extremely fast and breathlessly in the urban business world, there is an almost hypnotic effect of moving water tied to the hopes that fish will rise."
There are few examples in the history of humankind where conservation over the mid- to long-term horizons has lost money for those investing in it. "As a maxim, it is true that the longer conservation methods are practiced and the longer good stewardship is employed, the more valuable the asset will be," Keith says.
"Beartooth Group's business model appeals to a growing class of investors who care that their money is invested with the view of having a positive outcome for the environment and for the world at large," says Jim Taylor, a director and real estate partner with Hall and Hall.
"Hall and Hall did a deal with Robert a while back where his investors actually chose to take less money for the property to achieve a conservation objective. That shows the type of investors he is attracting," he says.
Herman acknowledges that, as an investor, it's less important to him that there be a higher margin of financial return on each project because there's no set formula, and the return is measured on two axes: environmental and financial.
Hall and Hall's Taylor concurs. "I personally believe that there are many investors who would be happy to know that their money is invested in a secure asset that shows a modest return. Robert should not be trying to compete with returns from private equity, hedge funds, or even with commercial real estate. After all, while those investments can show outsized returns, they can also go to zero. If you buy a commercial building that suddenly has no tenants, guess what it's worth? Zero. Land never goes to zero — especially high-quality land."
THIRD STEP:
THE COLLABORATORS
A key aspect of Beartooth Group's modus operandi relies on strategic collaborations with nonprofits such as the National Parks and Conservation Association and The Nature Conservancy, as well as government agencies, including US Fish and Wildlife, Montana Fish, Wildlife and Parks, and Wyoming Game & Fish. Private contractors such as Miller Recreational Design, Gillilan & Associates, and Rowe Excavation restore wetlands and creeks. Other partners address hazardous materials issues, promote regenerative agriculture, clear clouds on titles, and work through succession questions. Ultimately, seasoned brokers market the restored properties.
A distinguished roster of hunting and fishing organizations partners with Beartooth, including Ducks Unlimited, Pheasants Forever, Trout Unlimited, and the Rocky Mountain Elk Foundation. "We don't determine what conservation success looks like on a particular property," Keith says. "Our conservation partners do."
"I worked with Beartooth Group on one conservation deal in the Upper Big Hole Valley, and certainly consider that a success," says Jim Berkey of The Nature Conservancy Montana. "TNC used North American Wetland Conservation Act grant funding to acquire an easement on the Steel Creek property — a tributary to the Big Hole River and known Arctic Grayling spawning creek — from Beartooth Group. Beartooth completed some restoration and clean-up of the property before putting it back on the market. The property was purchased by a conservation buyer that has continued to restore habitats and make improvements to fences and grazing systems so they are more wildlife friendly."
FINAL STEP:
THE BUYERS
Beartooth Group has attracted an increasing number of conservation-oriented buyers looking to make smart investments in ecologically important ranch properties.
"We were just going about our investment business, investing for our third fund, when COVID hit. All of a sudden, people started coming out of the woodwork asking us to help them find ecologically important ranch properties," Keith says. "So, we did that for a few people, and then they asked us to manage their properties for them. So we did that too. I really hope that this is an indication that the current rush of ranch buyers understands the importance of conservation and stewardship. The West needs that."
While the majority of buyers are wealthy individuals or families seeking retreats or adding land as an asset class, some of the purchasers are state, local, or federal agencies that recognize the holdings as being critical pieces in protecting habitat for public wildlife, such as winter range for big game animals or spawning streams for trout.
"We've put a lot of land in public ownership by selling it to local and federal agencies. We've also sold to nonprofit groups for public access. We've helped ranchers and ranch managers become owners of land," Keith says.
OVERALL IMPACT
Keith and Beartooth Group have worked closely with Trout Unlimited Montana on more than half a dozen projects. Some bolstered the value of property sold to private buyers. Others were acquired by state and federal agencies to improve fish spawning habitat or for winter range for species like deer and elk.
From a wildlife enhancement perspective, stream corridors are the richest places for species diversity. "Beartooth Group's properties depart from the traditional view that wildlife and agriculture are at odds," says Pat Byorth, Trout Unlimited's Montana Water Project Coordinator and a recent appointee to the Montana Fish and Wildlife Commission. "The work by Robert demonstrates that ag, open space, and wildlife habitat are most valuable when operated holistically."
Beartooth has also brought back some extraordinary fishing to streams written off. "The critical element in Beartooth's work is water: recognizing that water is the key to our survival on this landscape and restoring natural hydrology builds resilient landscapes," Byorth says. He adds that a healthy trout stream is a bellwether for stewardship done right. "Beartooth Group has demonstrated the inherent ecological and economic values of fisheries, wildlife, and wetlands habitats in ranchlands so long traditionally overlooked or treated as wastelands."
When rivers and wetlands are allowed to resume their original ecological function, amazing things happen. Wetlands hold water on the land during drought. Conversely, they serve as buffers against floods. They raise water tables and humidity levels, a benefit to cash crops. The most overlooked benefit is serving as the source of purified water that benefits thousands, if not millions, downstream.
At a time when average temperatures are rising, droughts have become the new norm in the arid West. Healthy lands are part of a strategy for resilience in confronting climate change. Study after study shows that healthy soils, grasses, and trees are natural allies in sequestering carbon. In the future, Keith believes property owners may be compensated for the ecosystem services they deliver.
GREATEST HITS
The list of Beartooth Group projects in the win column are many and varied. For starters, consider the 1,250-acre Yellowstone Springs Ranch, which is located 30 miles north of Yellowstone National Park. Thanks to several miles of impenetrable 12-foot-tall fencing reminiscent of a gulag, the property was a migratory dead end. Beartooth Group opened up this key wildlife migration corridor in partnership with the National Parks and Conservation Association. A year after the fence was cleared, three elk crossed. The following year, the number was up to 30. By the third year, 300 were flowing back and forth between the national park and winter range.
In Idaho, a Beartooth Group-led project helped take down small-scale dams and antiquated irrigation systems along the Pahsimeroi River, a tributary of the Salmon River that had been blockading Chinook salmon that had traveled hundreds of miles upstream from the Pacific Ocean to spawn. The first year after Beartooth's  project was completed, wildlife officials documented 30 times the number of reds that were there 12 months before.
And just days before I spoke with Keith, at the Ryegrass Ranch project near Daniel, Wyoming, 12,000 Colorado cutthroat trout eggs were planted in partnership with Wyoming Game & Fish, US Fish & Wildlife Service, and Trout Unlimited to augment a troubled fish population that today is aided by Beartooth Group's 10 miles of habitat improvement (see picture above).
"What Robert has done is look for those places that need cleaning up, and by that I mean cleaning up physically or legally or title-wise," Herman says. "That's something I've wanted to do myself, but I didn't have the time or money to do it on Beartooth's scale. Robert has integrity that's off the charts. He walks the walk. It's great to have a professional team with the same sensibilities and goals. Whether I make money or not is not a sole goal because part of the return is the satisfaction of the good things happening on these properties."
Which brings us back to Willow Creek. Turning our heads 180 degrees and looking away from the waterway, Keith points to farmed fields that yield alfalfa and sainfoin for the regenerative agriculture operation, barley that goes to local breweries, and wildlife habitat planted in a grass mix blended by Pheasants Forever that benefits pheasant, geese, crane, wild turkey, and grouse.
Keith is a stakeholder himself in the ideas that Beartooth Group is advancing, particularly of turning unsustainable ranching and farming practices into regenerative endeavors. For example, he recently started Philosopher's Beef, inspired by the name Lewis and Clark bestowed on Willow Creek. The company practices management-intensive grazing, effectively mimicking the movement of bison on the plains. They also installed a solar electric system to run the pivot irrigation system. The goal is to create carbon negative, or at least neutral, beef. Further, the company conducts an on-ranch harvest of their cattle avoiding feedlots and the industrial food system in its entirety. People in the Bozeman region buy Philosopher's Beef as a way of eating tasty meat that is chock full of Omega 3 vitamins and striving to improve the planet by voting with their wallets.
"We're trying to be a force for good and to come up with creative financial solutions to do that. That's our unique niche," Keith says, "to find creative financial solutions to fund conservation."
Working lands, replete with positive feedback loops, save time and money, create more opportunities for revenue generation, and best of all, are settings for R&R. Make no mistake, Keith says, there are challenges. He considers the Beartooth Group system a work in progress, constantly being adjusted and fine-tuned, just like sound managers do with investment portfolios. "We're not taking land out of production, he says. "We're trying to better the odds for people who want to make their living on the land and do it in a way that delivers dividends for all."
Beartooth projects have become case studies that are helping to forge a new pathway for agriculture, business, and land protection. The biggest takeaway of all? Environmental mismanagement is not just bad for Mother Nature. It's a bad business strategy. Period.

---
Originally published in The Land Report Summer 2021.