2022 Deal of the Year: BSFC Acquires Forestland Group Portfolio
2022 Deal of the Year: BSFC Acquires Forestland Group Portfolio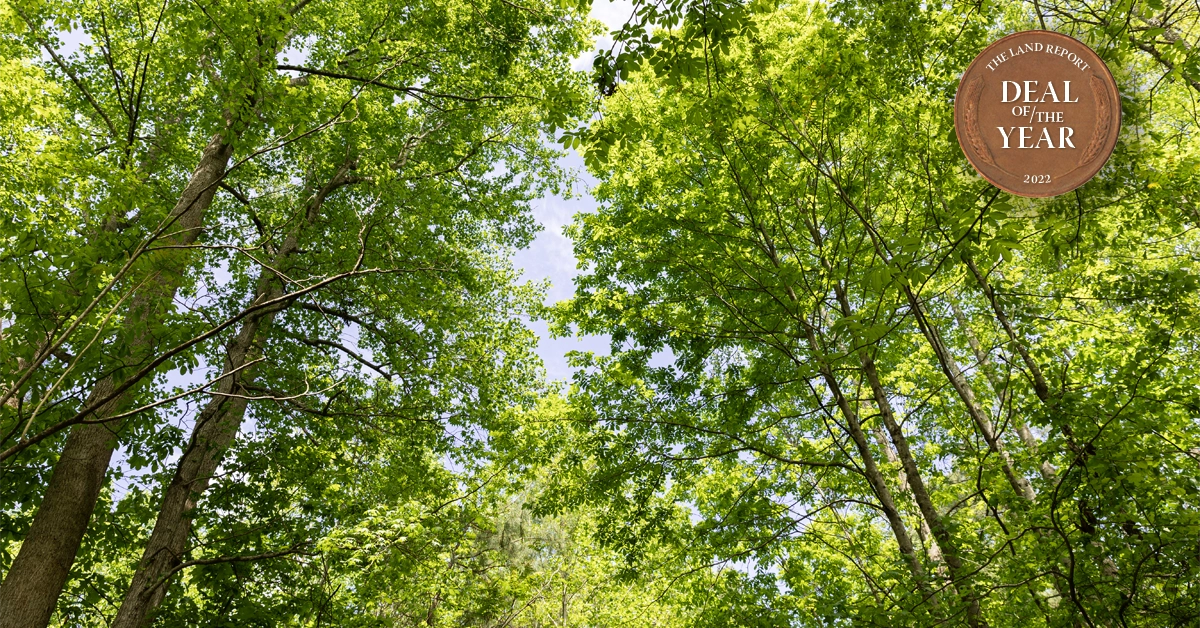 Just a 45-minute drive from the tall tales of Washington, D.C., Maryland's tall trees beckoned Jamie Houston IV. A lifelong forester, Houston lives for long woodsy walks. Growing up in Mississippi, he often ventured into the wilderness to hike and to fish. Ultimately, he became an Eagle Scout. Now, as the CEO of BSFC, he had a specific mission on this woodlands trek.
Houston wanted to take a closer look at the hardwoods — the yellow poplar, black cherry, American beech, and other species on the tract. He and his partners were poised to buy those acres and, more specifically, those trees.
The farther he walked, the more he liked what he saw. The seller — The Forestland Group — had been an excellent steward. Not only were the hardwoods healthy, but the logging had been judicious and beneficial.
Unlike The Forestland Group, however, Houston and his team envisioned a different business model. Instead of generating the majority of its revenue from logging, they would let the trees grow. In November 2022, they put their plan into action. A consortium that included the firm that Houston leads — BSFC — announced the acquisition of a 1.7-million-acre timberland portfolio, including the Maryland acreage Houston walked. Valued at $1.8 billion, the 2022 Land Report Deal of the Year represents the largest private, carbon-centric forest investment to date.
1.7 Million-Acre Carbon Footprint
"It's awesome to have a portfolio of 1.7 million acres that can really impact a carbon footprint," Houston says.
"You can say that everybody needs to do that with every acre. But we have the scale now to have real emissions impacts while doing the right thing for this portfolio. We're looking at each property to try to maximize the amount of carbon that we can sequester. That means we'll be managing a working forest for the health of the forest, not cutting as much timber as historically has been done," Houston says.
In fact, BSFC plans to harvest only 10 to 20 percent of the portfolio's annual timber growth. The bulk of the acres will be used to create carbon offsets, invest in carbon markets, and store hundreds of millions of tonnes of carbon for decades — a bold, innovative revenue strategy for forestland, where lumber and pulp have long been the prime moneymakers.
Industrial logging consumes 4.2 million acres of US forestland per year, according to the World Resources Institute, a research nonprofit. BSFC's carbon-­centric business model has an entirely different focus.
"This [approach] is carbon first, flipping that management model on its head," says Jeanethe Falvey, senior director of marketing and communications at Anew Climate, whose environmental commodities portfolio extends across five continents.
"It's taking an ecology-first and an environmental-first perspective, which is a completely different model than anyone else in the industry," Falvey says.
Carbon's Biggest Forestland Splash
BSFC is a joint venture between Anew Climate and Oak Hill Advisors. Anew provides BSFC with carbon-development work, including the sale of carbon credits through carbon registries. Oak Hill provides capital to BSFC. The 1.7-million-acre portfolio was purchased from The Forestland Group, an independent timberland investment management organization (TIMO) with a 25-year record that is headquartered in Chapel Hill, North Carolina.
The 2022 Deal of the Year undoubtedly marks carbon's biggest forestland splash. But other investors have recently placed similar bets.
Earlier this year, Campbell Global, a wholly owned timber investment manager for J.P. Morgan Global Alternatives, led the acquisition of more than 250,000 acres of high-quality commercial timberland located in the Southeast and valued at more than $500 million. The transaction gives investors access to "a robust carbon sequestration-and-timber-management platform," according to Anton Pil, J.P. Morgan's global head of alternatives.
In 2021, Manulife Investment Management bought nearly 90,000 acres of timberland in Maine, near Canada. Those acres are now used to store carbon.
And prior to BSFC's big buy, the firm had purchased 110,000 forested acres throughout New York, Michigan, Tennessee, Alabama, and Mississippi for carbon sequestration.
Now, if you're new to the topic, here's a brief primer: Trees absorb and store carbon dioxide from the atmosphere, and hardwood species store more carbon because they are heavier and grow more slowly. Forest-carbon credits or offsets are created when landowners increase their forest's ability to absorb CO2 and store carbon. Those credits are bought and sold on carbon markets, including the California Air Resources Board, the only regulated carbon market in the US. Polluters purchase carbon credits to counterbalance the greenhouse gases they emit.
So, what's enticing some private-equity players to acquire huge swaths of timberland and not cut the trees? As with most economic ventures, it starts with the supply.
"The (BSFC) deal is a reflection of the fact that forest assets that are suitable for carbon development are still relatively scarce, especially at scale," says Larry Selzer, president and CEO of The Conservation Fund, a national nonprofit land trust based in Arlington, Virginia.
What's more, the transaction offered "a very overt signal," Selzer adds, that the high margins earned by carbon traders won't be sustainable as carbon markets mature and gain transparency, swaying buyers like BSFC to create a stable, long-term supply of carbon credits.
"And most importantly, for carbon credit buyers who want a stable, long-term supply without price risk or concerns over integrity, you have to own the forest," Selzer says.
Playing the Long Game
Of course, private equity, by its very nature, is all about the creation of new markets and looking 10 years ahead, making carbon "a perfect fit" for investors now betting on the future of carbon offsets, he continues. "This is exactly the opposite of the traditional real estate model, which by nature is backward-looking at appraisals, timber cash flows, and other data," Selzer says.
Indeed, prices for carbon credits likely won't overtake the economic benefit of timber production in the near term, but forest-carbon investors are playing the long game, says Joe Taggart, president of LandVest, the largest broker of institutional forestlands in the nation and an advisor to many leading landowners featured in the Land Report 100.
"If you double the price of carbon, it looks really attractive, right? So, I think that people are saying there's a limited amount of land, and the forest-carbon offset credits are going to be part of the solution and a major driver in the marketplace," Taggart says.
"We don't know, necessarily, if that's three years or five years or 15 years down the road, but it's going to happen. And once it does happen, it's going to be too late to buy the land," he says.
According to Taggart, investors and landowners are talking about carbon much as they did conservation easements. He makes the comparison this way: In the 1990s, conservation easements were "a little clumsy," and markets had not fully embraced them. Although valuations were tricky, they still were a useful tool. Today, however, conservation easements are a widely accepted landowner tool with broad acceptance.
"So, I think that we are just at the beginning of that stage where you'll see, in the next 10 or 20 years, [carbon] incorporated the way that conservation easements have been," Taggart says.
Smart money aside, many investors also are drawn to the environmental pluses of carbon storage, Houston says.
Across its massive portfolio, BSFC plans to create older, more resilient, and more biodiverse forests while benefiting native plants, wildlife, and people in the nearby towns and cities, he says.
"The timing is right for these nature-based solutions within a diversified portfolio," Houston says. "You've got investors and limited partners that are saying, 'Hey, how can I have an impact? And how can I get an appropriate return through an impact investment?' That's truly the basis of this whole investment."
Across their dispersed locations — from the Adirondack Mountains to the Upper Peninsula of Michigan to Louisiana and Florida — the properties span 119 tree species, 225 bird species, more than 60 kinds of mammals, about 240 types of fish, and more than 5,500 miles of streams, rivers, and creeks.
Beyond that bounty of natural treasures, the BSFC team hopes its innovative acquisition inspires timberlandowners and investors to take a hard look at carbon. And that specifically includes business competitors across the forestland world, Houston says.
"We believe in competition, and we want to help other people in this market and in this industry. We mean that. And our board stands behind that," Houston says. "We're here to help anybody who wants to be educated on carbon or wants to figure this out."
That sort of camaraderie certainly isn't the norm in the cutthroat world of business. But members of the niche forestry community, Houston says, share common goals about land use in North America, including "doing the right thing and making the right changes."
During his ramble through that Maryland property, Houston envisioned some of those "right changes" en route to a carbon-rich future. But the walk also put him in the moment. It gave the registered forester a rare opportunity to savor time in the trees. Because, as the old joke goes: Every forester joined the profession to spend time in the woods — yet, in truth, the job often keeps them deskbound, gazing at screens, not sycamores.
For that reason, Houston loves the idea that the deal will also give more people a quiet place to wander the wilds.
"I truly believe in the ecological impact, the hydrological [impact], the species diversity, the wildlife, as well as all of the recreational components that will come along with this," he says.
Says Houston, "Hopefully, the people who live in these [nearby] communities will travel to these forests to participate and spend time outside. You know, just as a forester, I think spending time ­outside and in the woods is a lot better than being on an iPad."