FOR SALE: 545-Acre Rockin JN Ranch
FOR SALE: 545-Acre Rockin JN Ranch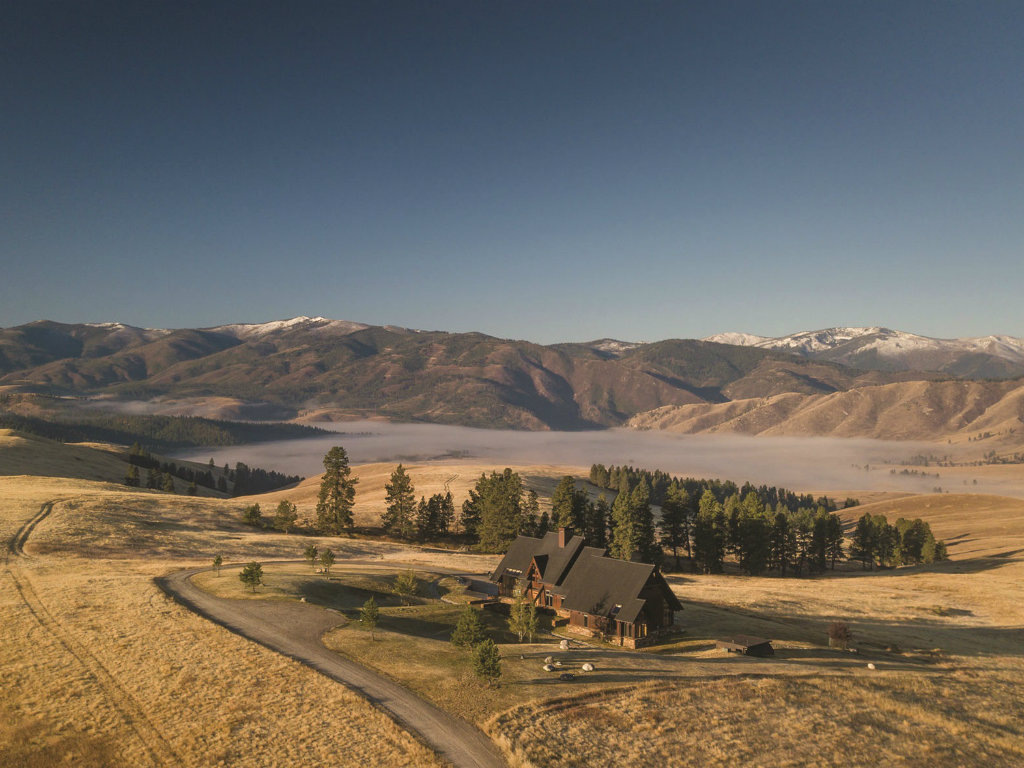 For more than a decade, Jason Newsted and his family have retreated and recharged in Western Montana.
| Photography by Bill McDavid
Most rock stars live life in the fast lane, burning through piles of cash as they galavant around the world, right? Think again with Jason Newsted. Back in his touring days, this future Rock & Roll Hall of Famer inductee and six-time Grammy Award winner had plans for his money, and they definitely did not include paying for overpriced room service at whichever Ritz-Carlton where Metallica was booked.
Nope. After another sold-out, ear-splitting encore in front of a sea of fans, the heavy metal bassist would chow down on a sandwich he made at the craft-services table. Even in his youth, the Battle Creek native was saving his money and thinking about life after the band.
"I was raised on a farm in Michigan. I grew up around horses. My idealized situation was somewhere in the mountains where I could have horses again, and I could be that guy again. I wanted my own country," he tells me at his band space and art studio in South Florida. Jason joined Metallica in 1986 following Cliff Burton's death in a tour bus accident in Sweden. He played with the band for a total of 14-plus years, and from the very beginning he had a plan.
"I'm going to buy my own country. I've going to have a spread – Idaho, Wyoming, maybe Montana – I'm going to have my own country," he recalls.
Twenty years later, those dreams came true.
In 1998, Jason finally came up for air. "We'd been around the world five times. But I was still a young man. I was seeking out my dream location so I started looking around out West. I talked to people in Idaho, Wyoming, Colorado, and Montana. I considered 26 or 27 different properties in a six- to eight-month span," he says.
Jason finally found "his country" with the help of ranch broker Jane Iten. Iten earned her stripes as one of Montana's first female outfitters and hunting guides, and she introduced the rock star to the Bitterroot Valley.
His 545-acre Rockin JN Ranch sits in a perfect pocket and is ideally situated between large private holdings and public lands. The acreage is made up of gently rolling topography. Native grasslands are peppered with timber-lined draws.
Jason selected the tract's highest ridge as his homesite. Plans were drawn up for a 5,800-square-foot timber frame home with three bedrooms and three-and-a-half baths. It includes a gourmet kitchen complete with Thermador appliances, a walk-in pantry, and a dumbwaiter from the three-car garage.
A towering Rumford-style fireplace dominates the spacious living room; several other fireplaces warm the home. Huge glass panes make the most of the breathtaking 360-degree views. Metal trusses mimic the stage lighting found at Jason's day job. Woodworking throughout the home features exquisite designs. One wall especially stands out. It boasts a sunburst design handcrafted with exotic woods from Gibson guitars.
"I drew that design out," Jason tells me. "I wanted it to represent the four members of the band I was in at the time. A point leads to a point leads to a point, and the circle is completed. After I drew it, I hired a local craftsman [to build it]. It was a natural since the Gibson factory was in Bozeman."
Outbuildings include a caretaker home, two shops, a greenhouse, and a dog run. "Nicole and I both put a lot into that house – I mean a lot – and then we built a soundproof studio in the basement. Ae studio is kind of its own apartment, its own scene down on the bottom floor. Then we finished the great room, and then we built another bedroom upstairs," he says.
The more I talked to Jason about the quest that brought him to the Bitterroot Valley, it became clear he felt that this land was meant for him to steward for a specific period of time.
"The guy that I bought it from was a guy from Michigan. I'm from Michigan. There was already a connection," he says. "There was something kindred there in the Bitterroot Valley. That entire valley was settled by Michiganders. The whole place. So I started to feel a vibe, right? I'm going, 'OK, this is feeling good.'"
These days, the career of the itinerant artist has Jason spending much of his time between Manhattan, Miami, and California. He's on tour again, but not performing as a musician. Jason's creative juices get flowing as he paints and works in mixed mediums.
"This opportunity came from the hundreds of pieces of art that I'd done from 2004 to 2010. They were just sitting in my basement in California. And this guy comes along, the owner of Art Miami, and says, 'Let's take some of those pictures out to the people.'"
As we tour his South Florida art studio, I sense the same passion he brought to his music. Passion tinged with sorrow.
"I don't really want to leave Montana, but what's transpired in my life over the last 14 months is not anything I could have predicted or really planned to do at all," he says.
"So that's why I'm selling my place in Montana. That place is ideal for somebody to pick up where I left off. The house is perfect. We've only lived there a little bit. It's still new. It's still brand new and clean and nice," he says.
"Now it's up to somebody else to come with an idea. Maybe a family, maybe a younger cat, someone like that. It needs somebody to come up and truly enjoy this remarkable find as we have. It's a dream place."
Bill McDavid of Hall and Hall has been selected to represent Jason Newsted in the sale of the Rockin JN Ranch. For additional information, go to: www.hallhall.com.