There's No Place Like Home Track
By Corinne Gaffner Garcia
Photography by Gustav Schmiege III
There's No Place Like Home Track
By: Corinne Gaffner Garcia
Photography By: Gustav Schmiege III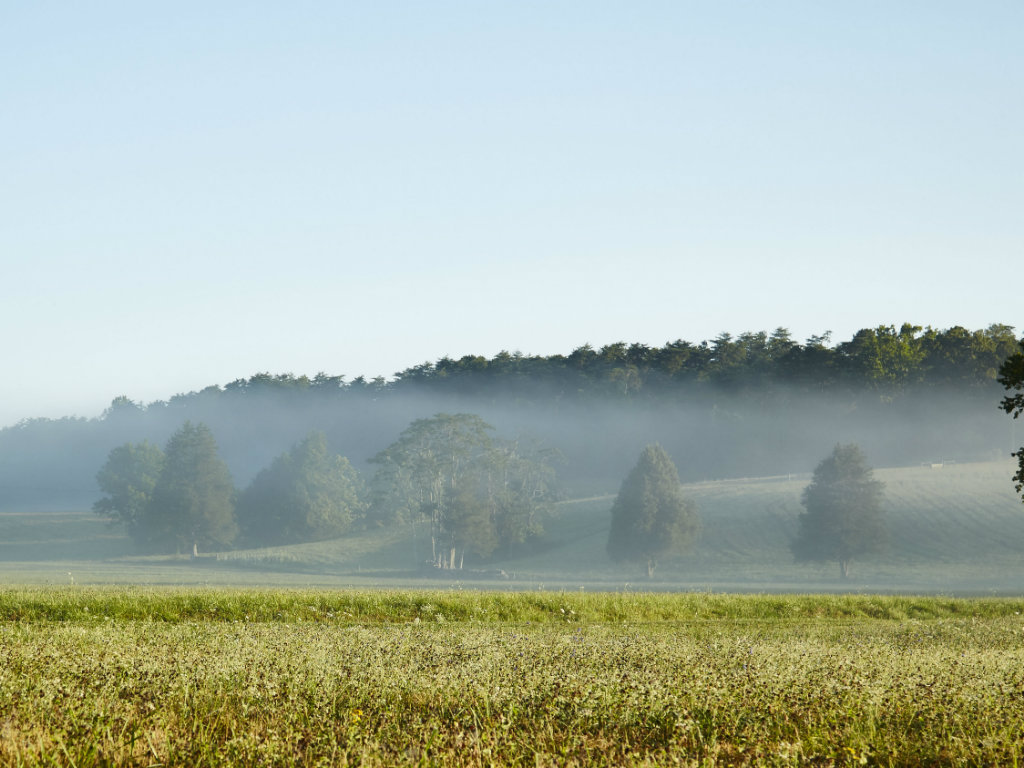 A serendipitous series of events led Shawn and Cheryl Todd to their idyllic Home Track Farm in the rolling hills of the Virginia Piedmont. It started with their boys, Patrick and Philip. Both ran track at the University of Virginia. (Worth noting is that Shawn ran the 800 meters at Baylor and Cheryl was the captain of her high school track team as was daughter Caroline.)
One morning more than a decade ago, their older son, Patrick, stepped out of the historic brick duplex where he lived near the UVA campus. A faculty member at the Business School, George Overstreet, happened to be passing by. Not only does Overstreet teach real estate, but he has a passion for historic structures.
"I'd always been interested in that house, and I asked Patrick if he wouldn't mind showing it to me," Overstreet recalls.
The undergraduate obliged and gave the professor a tour of his digs. In the process, he learned that Overstreet owned a historic home in the heart of Charlottesville as well as a farm just minutes from campus. He and his wife, Susan, had first visited the Charlottesville region when he was a postdoctoral fellow at the Wharton School of Business. They toured Monticello and many of the buildings our third president helped to design at UVA. Not long after that trip, Overstreet joined the UVA faculty, and the couple made Charlottesville their home.
Overstreet studied Patrick's historic residence. He mentioned aspects of its neoclassical design and the sturdy brick construction. As he spoke, Patrick Todd made a curious connection: George Overstreet had to meet his father. Shawn Todd suffers from a similar malady, the love of wonderfully designed structures large and small.
The Dallas developer has made a name for himself (and enviable returns for his investors) by giving new life to historic structures such as Dallas's 1929 Post Office and Court House, an Italianate masterpiece that Todd Interests renovated, restored, and repurposed as office suites, luxury apartments, and — quite naturally — a post office.
"So I gave Patrick my phone number and told him where Susan and I lived in town. One day Shawn knocked on my door, and we've been friends ever since," Overstreet says.
A few years later, Patrick's younger brother, Philip, enrolled in a real estate course at the McIntire School of Commerce that Overstreet taught. Coincidentally, the professor was overseeing a case study on Green Meadows, a historic farm not far from his own. Green Meadows' owner, who was in her 90s, was putting a conservation easement on the farm and had plans to sell it. The buyer would become only the third owner. Overstreet was determined to find a buyer who felt compelled to steward it and its rich history as much as he did. So he shared the case study with his friend from Dallas.
When Overstreet brought Green Meadows to Shawn's attention, buying a farm in Virginia was not top of mind. "I was just digging out of 2008 and 2009 as a developer," Shawn recalls. "We were still reeling from the Great Recession, and the last thing I needed was a farm a thousand miles away. But I couldn't help myself. On a beautiful fall day when I was up visiting the boys, I took George's case study and drove out to the farm. I got out there and my heart just started pounding."
Shawn's first call was to his son Philip. "What are you doing?" Shawn asked.
"I'm going to class," Philip responded.
"Can you skip it?" Shawn asked.
Minutes later, father and son were on their way to Green Meadows.
"We spent hours hiking all over this wild, overgrown, not-cared-for property," Shawn says. "And then I remember Philip specifically calling Cheryl and telling her, 'Mom, you and Dad need to do this.'"
Do it they did. In fact, they did it twice: first with Green Meadows, a homestead that dates back to the 1860s that belonged to the Earlys and the Cattertons, and then, when the land next door came on the market, with Home Track Farm, which dates back to Ezekiel Wilhoit's ownership in the 1820s.
Shawn and Cheryl's takeaways are worth singling out.
No. 1 | Nurture the Land
"When you look at a farm, first look at what God gave you, the land," Shawn says. "If someone's been a good steward, if they've paid attention to their soils, to the streams and river frontage, then they've made sure that there were nutrients in the grass, they've made sure that the soil has been tillable and rich, and they've made sure that invasive species haven't taken over the pasture land, let alone the all-important spring land and creek land and river frontage. Just like with old structures, people often walk away, they leave. They have their reasons.
"Our focus was to be a good steward of the soil and the land. That meant removing invasive tree species, bringing to life pastureland, preserving river frontage and creek frontage to keep invasive grasses and species out, replanting grasses that served as good filters and good buffers for those areas, and then not grazing the soil for a long, long time. We let the Earth replenish itself and add nutrients to the soil," Shawn says.
No. 2 | Build Your Team
Carter Hilliard of Hilliard Estate & Land Management out of Charlottesville was brought on to supervise the remediation and rehabilitation program on the farm. (See "Where Legends Are Born," The Land Report Summer 2020). In an earlier life, Hilliard was a broker with Frank Hardy Inc. and CB Richard Ellis. In 2009, he founded his own firm to help landowners such as the Todds improve and manage their holdings. The results of his efforts speak for themselves.
"It's been amazing to see the wildlife that's here on the farm, to have the Lynch River that we trout fish and a pond that we bass fish with our fly rods. We deer hunt with our bows," Shawn says. "But the joy that it harkens with me is to walk through a garden with my granddaughter, and to ride on a four-wheeler, and to walk along the river. It's pretty clear that nature speaks to a great Creator. To see His handiwork when the wildflowers come in, the morning birds sing, the red fox that wakes up early, a marvelous buck standing in a field, or a black bear. It's remarkable for your grandchildren to sit out under a big swing in a tree. That's been a great joy."
Cheryl took charge of renovating the centuries-old structures as well as enhancing them for modern-day usage. Talented local craftsmen were identified and hired. Cindy Zelazny, who has worked with Todd Interests on major projects for more than 25 years, was enlisted to assist with the interiors. The goal was to give period furniture its due but to present it in a way that was both stylistic and of high design.
"We tried to take things back to the way they were, only better," Zelazny says. "We kept the integrity of the exterior but used materials, antique lighting, and things that would have been appropriate back then."
No. 3 | Work With What You've Got
This was especially challenging with the second acquisition, a two-over-two-over-two farmhouse built for the Wilhoit family in 1823 by the same contractor Jefferson used on Monticello. The kitchen and dining room occupy the sub-grade half floor, the parlor and study on the second, and two bedrooms on the third. A second phase was added in 1843, and a third addition 150 years later.
"What a challenge — to bring an early 19th-century homestead up to a 21st-century level of style and accoutrements while being respectful of its history. Cheryl and Cindy nailed it," Shawn says.
The outbuildings were a project in themselves. The water system is centralized in an old milk house. A historic bank barn became an all-in-one media center, lounge, and party barn. Reputed to be one of the first bank barns in the Commonwealth, it was built with hand-hewn wooden beams 30 feet long and 18 inches wide. The Todds converted this monolith into a gathering place.
"It's our indoor playground for pool, shuffleboard, libations, college football, watching the Masters, and watching movies. Better yet, there is a marvelous corn crib right by the bank barn. Our remarkable farm manager, Tony, is a gifted craftsman. He's converted it into a place to play bocce ball and corn hole," Shawn says.
A welcome outcome of these labors was a new career path for Caroline Todd. "Caroline had worked for an accomplished high-rise apartment developer and had received offers to go to a large investment bank," Shawn says. "And she said, 'You know what? I've seen what Mom and Cindy have done at Home Track. That's what I want to do.' So she founded her own firm, Todd Interiors, and now she's working with us on $1 billion worth of projects alongside Cindy."
Shawn and Cheryl are considering placing a conservation easement on the remainder of the property to preserve the history and unencumbered views.
"You're sitting there in the shade with a gentle breeze, these 200-year-old oak trees, and the historical architecture, and it's warming to your soul and your spirit," Shawn says. "I get goosebumps frankly just talking about it. It's really that passionate to us."