Land Report January 2016 Newsletter
Land Report January 2016 Newsletter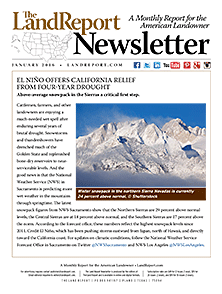 Ten million acres of forest fires? That's how much land, public and private, went up in smoke in 2015. You'll learn more about this startling statistic in our January newsletter, and get updates on:
A 23,000-acre auction in Eastern New Mexico
A $46 million farmland sale in Northern Nebraska
An unexpected turn of events on the California coast
For up-to-the-minute reports on listings, auctions, sales, and breaking news pertaining to land and landowners, be sure to follow us on Google+, Facebook, Twitter, Pinterest, and Instagram.