Land Report March 2014 Newsletter
Land Report March 2014 Newsletter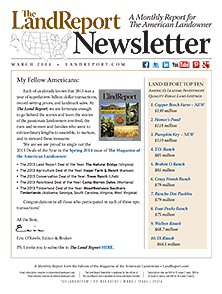 Be the first to peruse the Spring 2014 issue of the Magazine of the American Landowner. It's one of the many highlights of our March newsletter. Our Spring 2014 issue has already been mailed to subscribers and shipped to newsstands, but it's available right now online at Land Report.com.
Among the many other stories you'll uncover in our March newsletter are which transactions were honored as the 2013 Deals of the Year, the new additions to the Land Report Top Ten, and the acquisition of Cabela's Trophy Properties by Sports Afield.
For up-to-the-minute reports on listings, auctions, sales, and breaking news pertaining to land and landowners, be sure to follow us on Google+, Facebook, Twitter, and Pinterest.