Private-Public Partnership
Private-Public Partnership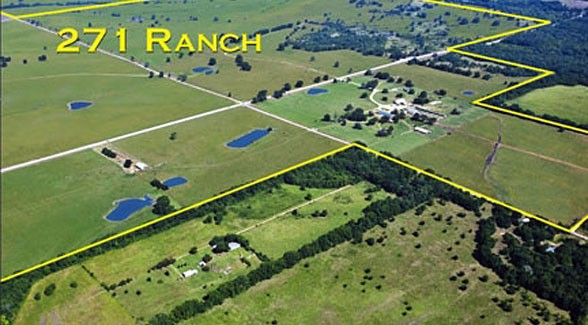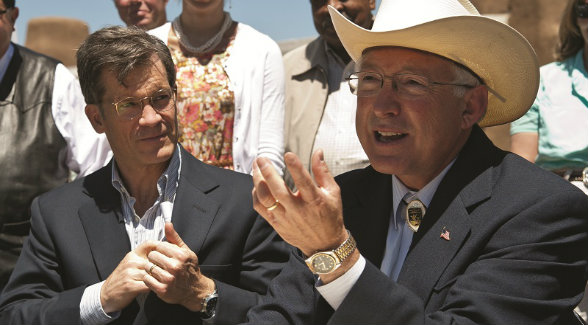 Land Report 100er Louis Bacon lays foundation for Sangre de Cristo Conservation Area by placing 90,000 acres in Colorado under easement.
When Louis Bacon (above left) revealed his plans to protect 140 squares miles of his Trinchera Blanca Ranch with a conservation easement, Secretary of the Interior Ken Salazar (above right) hailed it as "the largest single conservation easement ever donated to the U.S. Fish & Wildlife Service – and it happens to be in one of the most beautiful places in the country, the Sangre de Cristo Mountains and the San Luis Valley."
Salazar should know. The former U.S. Senator was born in nearby Alamosa in the shadows of the Sangre de Cristos. He added a gracious postscript: "Thanks to Louis Bacon's deep commitment to conservation, we will now be able to preserve a diverse mosaic of public and private lands, creating a landscape corridor for fish and wildlife unlike any place in America."
Bacon and Salazar were joined by Deputy Secretary of the Interior David Hayes, U.S. Fish & Wildlife Service Director Dan Ashe, and Costilla County Commissioner Crestina Martinez at the conservation announcement on June 15 in Fort Garland.
The founder of Moore Capital Management, Bacon bought the 171,400-acre high-country ranch in 2007 from the heirs of Malcolm Forbes. Three years prior, the Forbeses had donated the largest conservation easement in Colorado history to Colorado Open Lands. Bacon's new conservation easement covers currently unprotected acreage on the Blanca portion of Trinchera Blanca Ranch and will jump-start Fish & Wildlife's proposed Sangre de Cristo Conservation Area. Once the conservation area is up and running, Fish & Wildlife will administer it as a part of the National Wildlife Refuge System.
"I have focused on habitat rehabilitation and stream restoration since I acquired the Trinchera Blanca Ranch in 2007," Bacon said in his remarks. "Since then, the property has become a touchstone for best practices, encouraging partnerships with local community leaders and state wildlife guardians. Now, we have the opportunity to partner with the U.S. Fish & Wildlife Service to develop a joint plan to manage the property, and I am excited about collaborating on the management and rehabilitation practices and to share them with other local landowners."
Bacon's gift is in sync with the current administration's conservation ethic. President Obama's America's Great Outdoors initiative to establish a 21st-century conservation agenda has prompted a series of voluntary partnerships with landowners, including new units of the National Wildlife Refuge system, such as the Flint Hills Legacy Conservation Area in Kansas, the Dakota Grassland Conservation Area of South Dakota and North Dakota, and the Rocky Mountain Front Conservation Area in Montana.
"While this easement specifically supports the creation of the Sangre de Cristo Conservation Area, my hope is that the conservation easement donation to the United States Fish & Wildlife Service will encourage other landowners to consider placing an easement on their properties," Bacon said. "The Sangre de Cristo Conservation Area provides a unique opportunity to partner with the federal government and one that I hope will be replicated to protect landscapes across the country."
Bacon's grandfather, Louis T. Moore, was a pioneer in the preservation and conservation movement in eastern North Carolina. "As a member of the local chamber of commerce, he worked very hard to help businesses understand the long-term economic benefit of protecting our environmental and cultural heritage from short-sighted, destructive development," Bacon said. "He believed that the fight to preserve nature was a worthy one both for the community and for commerce. It is a legacy I have been fortunate to be able to continue. I have worked on a number of conservation and preservation projects in the United States and overseas, but nothing with the scope and importance of my efforts on the Trinchera Blanca Ranch."
More information on this visionary landowner is available at www.moorecharitable.org.
Click here to download the digital version of The Land Report's Fall 2012 edition today.