Test Drive a Property Before You Buy It
Test Drive a Property Before You Buy It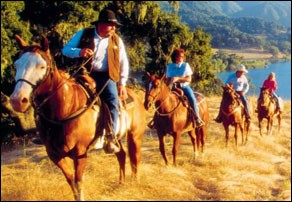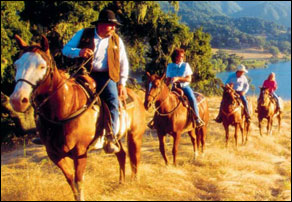 Ever dream of owning your own vineyard? Want to open a guest ranch? Try before you buy at one of these award-winning operations.Horse Farm
Alisal Guest Ranch
Solvang, California
Rate: $465 and up
888-425-4725
www.alisal.com
SO YOU THINK YOU LIKE HORSES? Like to putter around the barn morning, noon, and night? Then make your way to this 10,000-acre ranch in the heart of Santa Barbara County, which has been owned by the Jackson family since 1943. There's plenty to do at the Alisal–two golf courses and an extensive tennis program come to mind–but in my book it's the string of 100 horses and the almost unlimited acreage for riding that set this place apart.
"Next to children, horses are the best cure for disposable income".
Trail-tested wranglers can answer all your questions, teach you how to sort cattle, and lead you through the Santa Ynez Valley. But when it comes to the big-picture ideas, what should you take away from your experience at Alisal?
Gary Vorhes has a suggestion or two. The former editor of Western Horseman, Vorhes has had a career that's been all about horses, on the job and at his own horse farm. "Next to children, horses are the best cure for disposable income," Vorhes says between laughs. He offers two key suggestions.
The first is to go into the horse business with a clear, concise marketing plan. "Where are you going to be five or six years from now when you have some foals?" he asks. "That's where bloodlines come in. A lot of people don't care about the individual horse. It's the pedigree they're dragging behind them that counts. It doesn't matter if it's racing, cutting, or rodeo, the most successful horsemen and women are the ones who are able to sell weanlings or ones before they even hit the ground because they have established a reputation. The marketing is done for them."
Vorhes' second piece of advice? "Buy the right piece of land. Pick a strategic spot. You'll be raising horses in a gold mine. It changes the whole ball game," he says.
One last observation: "Every foal that hits the ground is a miracle, and when it's your foal it's THE miracle."
–Eric O'Keefe
"The one thing we always do is plant things we can use".
Herb Farm
Fredericksburg Herb Farm
Fredericksburg Texas
Rate: $145 to $185
800-259-4372
www.fredericjsburgherbfarm.com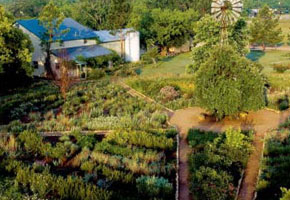 WE REALLY STUDY WHAT WE'RE doing. We have a story to tell, and we tell it in everything we do," says Bill Varney, who owns and runs the renowned herb farm with his wife, Sylvia.
The Varneys fast-forwarded their own story in 1991 when they cashed in the house they called home and bought four acres in Fredericksburg, a gem of a town in the Texas Hill Country. Included on the land were a limestone farmhouse that dated back to 1882, a two-bedroom cottage, a small wooden barn, and a couple of sheds. It's worth noting that the property itself had been abandoned sometime in the 1970s. Wild turkeys and a host of snakes had established themselves as the lords of the realm.
Not that any dilapidation is visible today. Instead visitors stroll through acres of expansive gardens. They peruse wonderfully scented rooms, buy exquisitely packaged personal care products, dine on herb-crusted delicacies, and indulge in aromatherapy treatments. "It got to the point that business at the day spa picked up so much that we moved out of our house and it became the spa," Varney says.
In addition to their ever-expanding product line, the Varneys have coauthored two books (Along the Garden Path and Herbs: Growing & Using the Plants of Romance) and host an annual spring herb festival.
"The one thing we always do is plant things we can use. There's nothing ornamental about our gardens. Even the pine cones and the seed pods get used as decorations," Varney says.
Clearly this couple knows their business, which is why anyone remotely interested in growing herbs, cultivating flowers, or maybe even setting up an online company that specializes in these products should make reservations at the herb farm's bed and breakfast.
What's to lose? Varney says, "three or four days at an amazing relaxing place that integrates herbs into cuisine, aromatherapy, well-being, and personal care."
–Eric O'Keefe
Vineyard
Youngberg Hill Vineyards & Inn
McMinnville, Oregon
Rate: $250 to $550
888-657-8668
www.youngberhill.com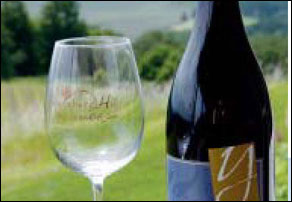 YOU LOVE THE TASTE, THE AROMA, the sound of a cork popping. You've studied the various grapes, and you've perfected your ordering technique. You might even say wine is your passion.
With "do what you love" as your mantra, maybe you've decided you could have a vineyard or winery of your very own. But before you sign that check, schedule a trip to Youngberg Hill Vineyards & Inn in Oregon's Willamette Valley. For the past two years this bed and breakfast, located on 50 acres outside McMinnville, has been offering half-day and full-day packages that allow guests to spend time in Youngberg Hill's working vineyard and winery.
The folks at Youngberg Hill tailor the packages to fit each guest's goals. Want to experience harvest? Depending on the time of year and the weather, they can make it happen. Want to see how the winery works? They can show you. You'll get one-on-one time with a winemaker, a vineyard manager, or the owner–maybe even all three.
Other than fostering an appreciation for the land and the creation of fine Pinot Noir, no two vineyard packages are the same. "It's not a cookie-cutter experience," says Youngberg Hill owner Nicolette Bailey.
Before purchasing the vineyard, Bailey was doing wine distribution in Chicago, so she's familiar with the city folks who come to the vineyard not knowing what to expect. She used to be one of them. "The process is eye-opening for people," she says. "I've had people who didn't understand that growing  grapes is farming." Walking the vines, tending grapes, getting muddy–it's all part of the deal.
Besides being nationally renowned for its Pinother Noir, the Willamette Valley is also close to Portland and spans more than 5,000 square miles, making it an ideal venue for getting into the grape game. And Youngberg Hill, with its organic and sustainable farming practices, is dedicated to keeping the area in top shape.
"It's not just about growing grapes," Bailey says. "It's about doing things right for the environment." And in case you were wondering, she couldn't be more pleased that she pursued a passion. "There were a lot of Green Acres moments, but I've never regretted it."
–Rhonda ReinhartGuest Ranch
The Home Ranch
Clark, Colorado
Rate:$5,075 per week (double occupany)
970-879-1780
www.homeranch.com
WANT TO WITNESS FIRSTHAND how to run a great guest ranch? This is the place to go. Thirty years ago, Steve and Ann Stranahan fell in love with an amazing piece of property in Northern Colorado: two large aspen-covered meadows bordering the Routt National Forest less than 20 miles from the popular ski town of Steamboat Springs. They closed on the property the following year (1978) and welcomed guests to The Home Ranch in 1980.
Fly-fishing, hiking, horseback riding–the list of outdoor activities in the Colorado Rockies is endless, but the kicker is that The Home Ranch is also a member property of Relais & Chateaux. Head chef Clyde Nelson has been featured in Gourmet, Bon Appétit, and Food & Wine.
So what does it take to run a ship this size? Johnny Fisher, general manager of The Home Ranch, says a love for working with the land, the livestock, and the people is imperative to running a successful guest ranch. "For people who are tired of working with people, running a guest ranch is not for you. Every year I go to these conventions, and there is always someone who stands up and says, 'I swear, kids these days …' And I just think to myself, it's time for him to retire."
Flexibility is also a key ingredient to a well-run ranch. Fisher says rearranging the staff schedule is usually his first challenge in the morning. "You have to be able to juggle people around and pull up loose ends. Some days I will do shoeing because my wrangler is injured or wash dishes because my dishwasher is sick."
After managing The Home Ranch for four years, Fisher has learned to wear many hats, and he says he wouldn't have it any other way. "I'll tell you this much, it's never the same old, same old around here–this place keeps me on my toes. But the best part about working here is that I never have to spend a minute in rush-hour traffic."
–Amy Hallford