2023 Best Brokerages – Great Plains
2023 Best Brokerages – Great Plains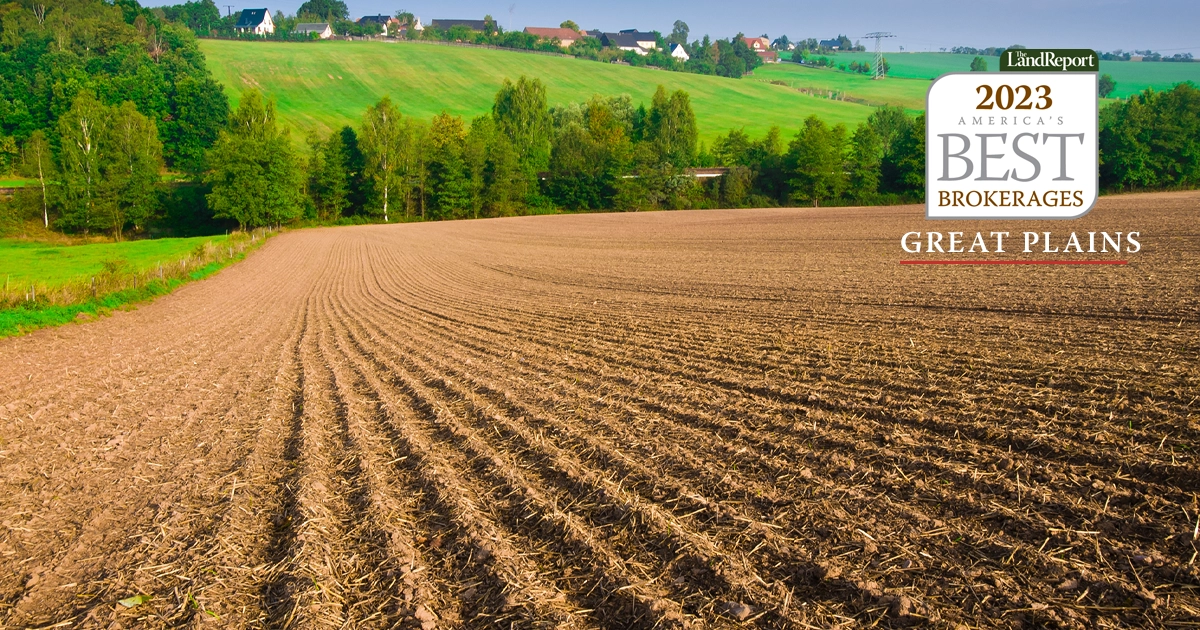 METHODOLOGY
The Land Report's annual survey of US land brokerages is based on the total value of self-reported 2022 domestic land sales through traditional brokerage. Totals exclude commercial, industrial, and residential assets, unless those assets were a component of a more valuable land asset. All figures were provided by respective firms from February 13 through March 31, 2023.
---
GREAT PLAINS LAND COMPANY
GREATPLAINSLANDCOMPANY.COM (405) 255-0051
2022 Sales: $100M–$250M
Who: A group of brokers/ agents who came together to create a client-centered organization that is passionate about the land.
WOW: Brokered the sales of the 2,326-acre McEntire Ranch and the 2,360-acre Oko South Ranch in Oklahoma.
What was your take on 2022? We saw extraordinary growth. The market was very strong, and we were able to double our land sales over 2021.
How is 2023 shaping up? After expanding our operations and seeing land sales double year over year for the past three years, we have huge expectations for 2023. So far, we have seen the consistency we strive for to stay on pace and continue our growth as a company.
HEWITT LAND COMPANY
HEWITTLANDCOMPANY.COM (605) 791-2300
2022 Sales: < $50M
Who: We utilize a team-based customer service model to provide our clients with the most hassle-free experience possible when transferring into or out of real property ownership. We specialize in farm, ranch, and recreational properties.
What was your take on 2022? The year started with tight inventory but quickly became very active, with ready demand for all classes of real estate at higher money. Even though the cost of money continued to rise through the year, so did the prices that buyers were willing to pay. We were impressed with the brisk pace of the market, as offerings went under contract in very short time periods.
How is 2023 shaping up? Due to the strong demand experiences in 2022, we started the year once again with tight inventory. However, the strong market is causing more folks, and especially property heirs, to consider selling.
LASHLEY LAND AND RECREATIONAL BROKERS
(308) 532-9300
2022 Sales: $100M–$250M
Who: We specialize in farm, ranch, and recreational land sales in Nebraska. We can figure out an accurate cash flow for any farm, analyze the carrying capacity for any ranch, and determine where the best places are to hunt for any native species.
WOW: Sold 4,832 acres of farm ground in Sheridan County for $8 million, setting a record-high price per acre for the area.
What was your take on 2022? Irrigated farm sales price per acre continued to climb, particularly in the central part of Nebraska, being pushed by investment buyers. Dryland farm sales in the far western part of Nebraska held or even declined a bit due to unusually dry conditions the past few years. Ranchland sales held tight. All land in the eastern part of the state continued to rise in value at a record pace.
How is 2023 shaping up? With the high demand for Nebraska land continuing unabated, we are confident we will continue to increase our total land-sales numbers. At some point, the rising farm prices will stabilize, but we don't see signs of that happening anytime soon.
MARSHALL LAND BROKERS & AUCTIONEERS
MARSHALLAUCTION.COM (308) 234-6266
2022 Sales: $50M–$100M
Who: Specializing in auction and the traditional marketing of farm and ranch properties.
WOW: Sold the 3,307-acre Hayward Ranch in Grant County, Nebraska, north of Hyannis, at public auction for more than $3.76 million.
What was your take on 2022? Above-average to excellent prices for top-quality irrigated cropland. Grassland demand was high as well.
How is 2023 shaping up? We expect good demand to continue for ag land. It is an investment with good income-producing potential combined with long-term appreciation.
MOSSY OAK PROPERTIES HOMESTEAD LAND & MANAGEMENT
MOSSYOAKPROPERTIES.COM (402) 358-5100
2022 Sales: $50M–$100M Who: Marketing farmland, ranchland, and recreational properties for more than 26 years, with agents licensed in Nebraska, South Dakota, and Iowa. We work with landowner, producer, and investor clients to facilitate 1031 exchanges, finalize estates, and expand investment portfolios.
WOW: We set several records in multiple regions through- out our trade area, with land prices trending higher and higher as the year went along.
What was your take on 2022? Land prices hit all-time highs. Strong grain and live-stock prices throughout the Midwest fueled tremendous demand for all types of cropland and pasture. There also continues to be demand for rural recreational properties, as well as more out-of-state buyers looking to diversify their investment portfolios.
How is 2023 shaping up? Cash buyers will continue to drive the market. So will the strong demand and high real estate prices of 2022. Ris- ing interest rates are creating headwinds. Expect the market to slow slightly through the second half of the year.
UNITED COUNTRY STUTZMAN REALTY & AUCTION
STUTZMANREALTY.COM (888) 818-1954 • (620) 356-1954
2022 Sales: $50M–$100M Who: A full-service real estate brokerage specializing in farm and ranchland sales throughout Kansas, Colorado, and Oklahoma. We hold membership within the Realtors Land Institute and are designated as an Accredited Land Consultant.
What was your take on 2022? The number of acres sold increased, as did historically higher prices per acre. Strong commodity markets and cash-infused buyers drove demand for all land types. Irrigated, nonirrigated, and ranchland values were largely dependent upon the availability- ity of water, either by climate or groundwater.
How is 2023 shaping up? We are on course for another robust year with regard to the number of acres sold. Despite the higher input costs faced by producers, prices per acre appear to be stable.