2023 Best Brokerages – Northeast
2023 Best Brokerages – Northeast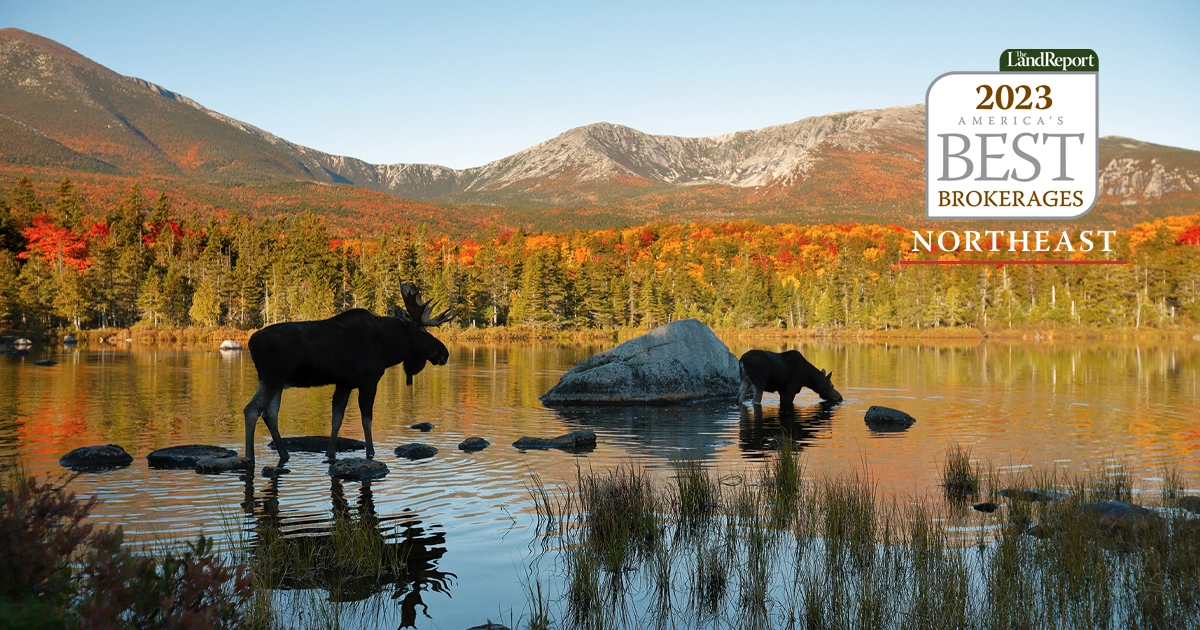 METHODOLOGY
The Land Report's annual survey of US land brokerages is based on the total value of self-reported 2022 domestic land sales through traditional brokerage. Totals exclude commercial, industrial, and residential assets, unless those assets were a component of a more valuable land asset. All figures were provided by respective firms from February 13 through March 31, 2023.
---
FOUNTAINS LAND
FOUNTAINSLAND.COM (802) 233-9040
2022 Sales: $50M–$100M Who: Our focus is on undeveloped timberland and multiple-use properties.
WOW: Sold the largest prop- erty based on acreage in Vermont in many years.
What was your take on 2022? Demand was very high, and property supply was limited.
How is 2023 shaping up? High demand and limited property availability.
MAINE OUTDOOR PROPERTIES TEAM @ REALTY OF MAINE
MAINEOUTDOORPROPERTIES.NET (207) 653-1555
2022 Sales: $50M–$100M
Who: We deal primarily in recreational properties, including land, farms, waterfront, campgrounds, and commercial recreational businesses such as sporting lodges.
What was your take on 2022? Our team did more than $81 million in sales, which was a record-breaking year for us.
How is 2023 shaping up? There is a strong indication that this year will be robust.
MOSSY OAK PROPERTIES PENNSYLVANIA LAND PROFESSIONALS
PALANDPRO.COM (724) 678-1232
2022 Sales: < $50M
Who: We specialize in marketing large-acreage tracts, timber tracts, mineral rights, rural homes, and cabins.
WOW: Closed a $3.2 million property in Luzerne County, Pennsylvania.
What was your take on 2022? The Pennsylvania market was as fast-paced as any recently.
How is 2023 shaping up? The market is still hot. Properties that are correctly priced are moving nearly as quickly as in 2022.
RAILEY REALTY
RAILEY.COM (301) 387-2000
2022 Sales: $250M–$500M
Who: Founded in 1974 on the shores of Deep Creek Lake in the mountains of Western Maryland, we have grown from a grassroots operation to the largest and highest-producing brokerage in the area. Our agents specialize in lakefront properties, large acreage, ski-in/ski-out homes, and luxury homes.
WOW: Sold a beautiful, newly constructed home along Deep Creek Lake in Oakland, Maryland, for $3.2 million.
What was your take on 2022? It fell off from the breakneck pace of 2021 in terms of the number of units sold, but home values remained steady. Buyer interest was high, with 65 percent of homes selling within 30 days.
How is 2023 shaping up? As a large second-home market, we anticipate that our market will remain steady through 2023. Desirable homes and properties are still selling quickly, showing consistent buyer demand despite rising mortgage rates and economic pressure.
TIMBERLAND REALTY
TIMBERLANDREALTY.NET (716) 962-9935
2022 Sales: < $50M
Who: Specializing in the sale of recreational properties, hunting camps, second homes, farmland, and timberland investment properties. With many foresters on staff, we offer an unsurpassed level of expertise in valuing timberland as part of any resource, particularly investment-grade timberland. WOW: Our agents represented both the seller and buyer in 85 percent of our closings in 2022.
What was your take on 2022? We broke all existing sales records for our firm last year. The land, residential, recreational, and timber markets were all booming, with a surplus of buyers and low inventory of tracts available for purchase. Nearly one-third of our total closings were from small and large investment-grade timber tracts where prices held strong all year.
How is 2023 shaping up? It will be a more challenging year than previously, as there is a public misconception that land may not be selling well due to rising interest rates. However, interest rates have little impact in our area, since most of our sales are all-cash deals with no bank involved. There remains a surplus of buyers and low inventory available. Listings are coming more slowly than previously but are still moving to close just as fast.