2023 Best Brokerages – Pacific
2023 Best Brokerages – Pacific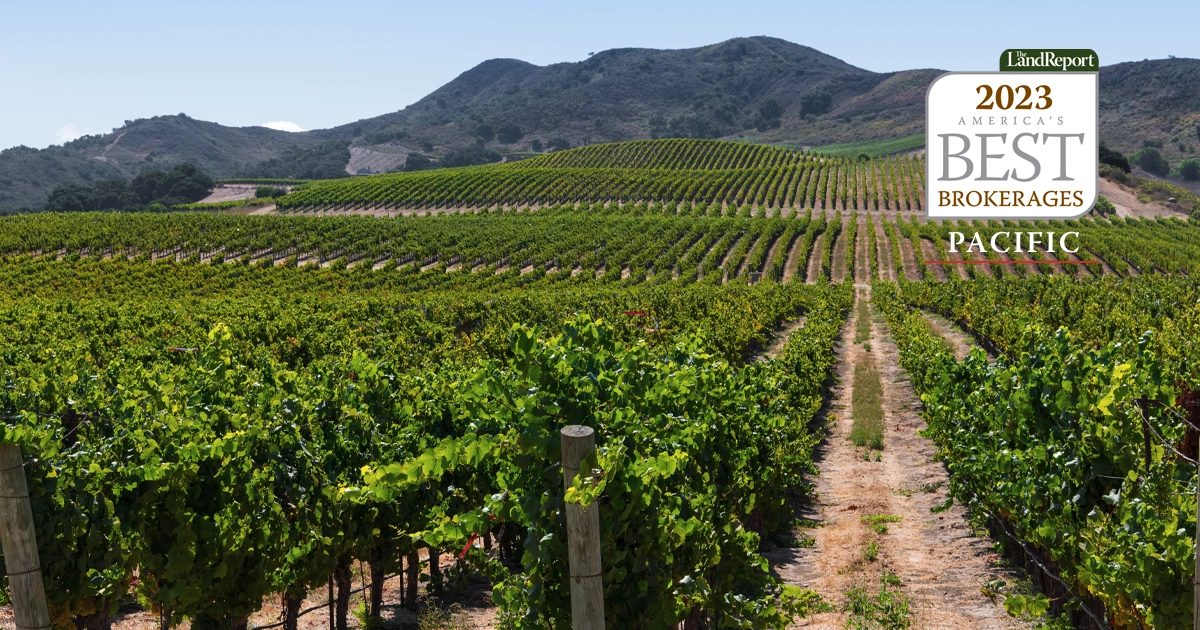 METHODOLOGY
The Land Report's annual survey of US land brokerages is based on the total value of self-reported 2022 domestic land sales through traditional brokerage. Totals exclude commercial, industrial, and residential assets, unless those assets were a component of a more valuable land asset. All figures were provided by respective firms from February 13 through March 31, 2023.
---
CALIFORNIA OUTDOOR PROPERTIES
CALIFORNIAOUTDOORPROPERTIES.COM (707) 455-4444
2022 Sales: $100M–$250M
Who: One of the largest farm, ranch, and recreational private real estate companies in California. We have expanded into Nevada as Outdoor Properties of Nevada.
WOW: Listed the 12,393-acre Bentley Ranch in Nevada for $100 million.
What was your take on 2022? We saw a slowdown in the market from 2021. Inventory levels were lower, and there was uncertainty with buyers and sellers.
How is 2023 shaping up? It seems to be a continuation of 2022 as buyers and sellers sit on the sidelines and watch the market.
THE CHICKERING COMPANY
RANCHBUYER.COM (530) 265-5774
2022 Sales: < $50M
Who: We have spent more than 40 years brokering California ranches, mountain hideaways, coastal retreats, and fishing and hunting properties.
WOW: Sold Willow Creek Ranch, 4,000-plus acres near Mount Shasta.
What was your take on 2022? The market was strong the first half of the year, then slowed in the second half.
How is 2023 shaping up? Quality ranches with good water, improvements, and location still see activity.
CLARK COMPANY
CLARKCOMPANY.COM (805) 238-7110
2022 Sales: < $50M
Who: A ranch real estate brokerage specializing in the Western lifestyle and the rewards of owning land.
WOW: Put Rana Creek Ranch under contract. At more than 14,000 acres in one contiguous block, it is the largest landholding in California's Carmel Valley.
What was your take on 2022? Due to inflation and higher interest rates, the market was slower overall.
How is 2023 shaping up? We had a great winter with a lot of rain and snow in the Sierras. The countryside is looking great, and we are looking forward to a productive summer and fall with increased interest from buyers and sellers.
KNIPE LAND COMPANY
KNIPELAND.COM (208) 345-3163
2022 Sales: $250M–$500M
Who: Established in 1944, we specialize in solving farm and ranch problems through brokers and agents who have expertise in land sales and marketing strategies. Many of our agents have farming and ranching backgrounds, and all of us share a love for the great outdoors.
WOW: Knipe Land Company represented a large timber entity that divested a massive holding into 45 timbered farm and ranch sales totaling $150 million.
What was your take on 2022? Many buyers felt the real estate market was heading for a crash in 2022. Instead, nearly free money continued to fuel higher prices.
How is 2023 shaping up? National and world events continue to drive demand for farms and ranches.
LAND AND WILDLIFE
LANDANDWILDLIFE.COM (866) 559-3478
2022 Sales: $100M–$250M
Who: A land brokerage in Oregon, Washington, and Idaho. Our areas of expertise include large ranches, farms, timber tracts, vineyards, and luxury resorts.
WOW: Worked with the sellers to list Cable Creek Ranch, a working cattle ranch in the Blue Mountain Range. At just under 56,000 acres, it was the ninth-largest ranch for sale in the US at that time.
What was your take on 2022? Our market experienced a substantial amount of activity. People are leaving cities for less-populated areas now that they can work remotely.
How is 2023 shaping up? We expect another strong year.
METIS REAL ESTATE
METISNW.COM (509) 529-3925
2022 Sales: $100M–$250M
Who: We specialize in vineyards and wineries as well as hotel and resort properties throughout the Pacific Northwest.
WOW: Sold Walla Walla's historic Marcus Whitman Hotel, which was built in 1928 and anchors this vibrant grape-growing community.
What was your take on 2022? Deal flow shifted more toward strategic operators rather than financial entities.
How is 2023 shaping up? It looks promising, with a strong pipeline backloaded toward the latter half of the year. There is more activity among strategic acquirers than from financials.
SMITH-KANDAL REAL ESTATE
SMITHKANDAL.COM (760) 344-2212
2022 Sales: < $50M
Who: We specialize in Desert Southwest irrigated farmland, renewable-energy opportunities, and solar properties.
WOW: Handled several sales of 500-plus acres for solar.
What was your take on 2022? It was fairly active and prices were firm.
How is 2023 shaping up? With considerable uncertainty surrounding the Colorado River, we have found a significant drop in buyers for irrigated farmland, even though the water rights associated with the Imperial Valley are so strong.
WHITNEY LAND COMPANY
WHITNEYLANDCOMPANY.COM (541) 278-4444
2022 Sales: $50M–$100M Who: We specialize in agri- cultural lands (irrigated, dryland, and permanent row crops under irrigation), cattle ranches, timberlands, and recreational properties related to hunting and fishing.
WOW: Represented the buyer of a 1,700-acre irrigated farm in the heart of Oregon's Columbia Basin. The complex transaction included layers of water rights from multiple sources, including deep wells, surface water, ditch water, and conserved water.
What was your take on 2022? We had growth in all sectors of our industry. Demand for quality real estate continued to exceed supply as customer confidence in agriculture land remained strong. The Pacific region continues to produce some of the highest-yielding crops in the world.
How is 2023 shaping up? Demand will continue to increase. Agricultural growing conditions are superb, with extraordinary heat units, quality water sources, and continued development of processing facilities for both crop and livestock production. Buyers are in place, cash is available for investment, and the diversity of our landscape will continue to drive investment demand in our region.