Jimmy John Shares Recipe for Success
Jimmy John Shares Recipe for Success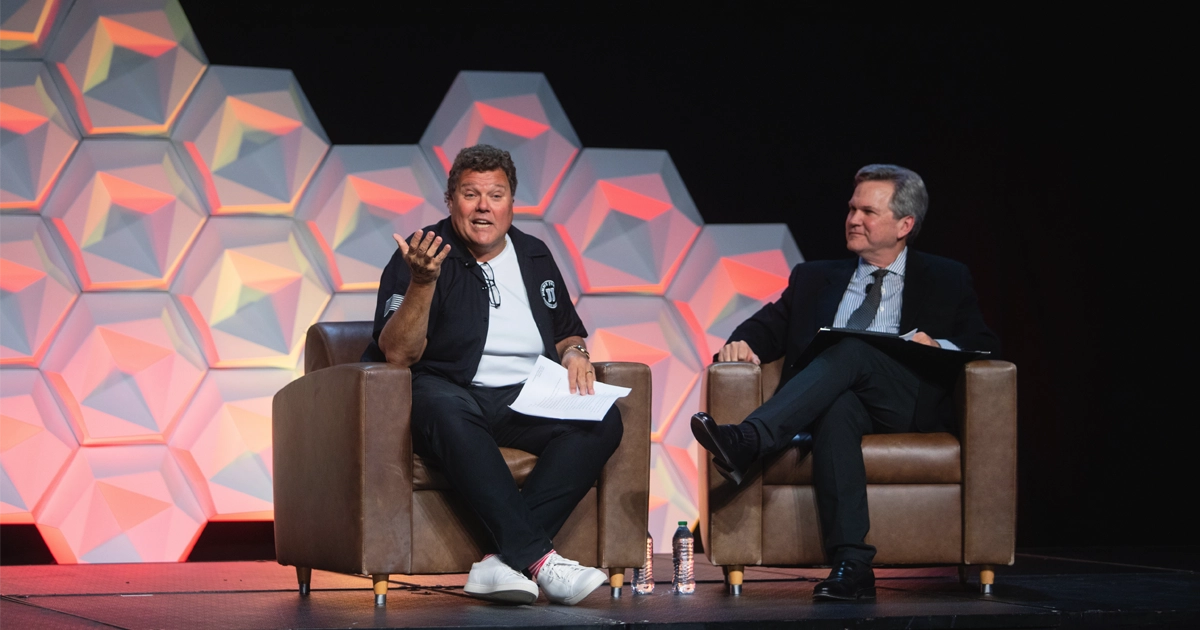 Jimmy John Liautaud — founder and of the Jimmy John's Sandwiches — took the stage at the Land Investment Expo 2023 to share reflections on his success as a restauranteur, landowner, investor, and vineyard proprietor.
Across four decades of entrepreneurship, Liautaud's accomplishments can be traced directly to his willingness to work hard — and to always honor the integrity of a deal, especially one sealed by a handshake.
"I was raised on [making] clean deals," Liautaud told the crowd. "Farmers still know what that means, and I love that about farmers — you make a deal, shake hands in your boots, and it's done."
Hands-on Early Management
In 1983, Liautaud launched his sandwich business right by the campus of Eastern Illinois University with a $25,000 loan from his father. The startup funds came with a caveat: if Jimmy John's entrepreneurial plans didn't pan out, he'd join the US Army.
But pan out they did, through sheer effort and determination. Liautaud recalled months of 20-hour days in his first shop, honing his customer relations skills and, especially, his business management savvy.
Heeding his father's advice to pay COD, Liautaud paid cash for everything. He credits his basic checkbook approach with helping him stay keenly aware of the ebbs and flows in his business profits. It also instilled an aversion to debt of any sort.
"I watched that bank balance go up and down every single day, because I was writing checks against that balance every single day," Liautaud shared. "I watched what made it go down and I watched what made it go up. I became an accountant by default."
This hands-on awareness of his books taught Liautaud to schedule his employees' shift time shrewdly and to source ingredients and supplies wisely. From day one, Liautaud bought sandwich bread from Schaumburg-based Gonnella Baking Company. To this day, Jimmy John's remains one of Gonnella's largest customers.
"I stayed loyal to them, because they stayed fair to me," Liautaud told Land Report Editor Eric O'Keefe during their sit-down interview.
Turning Profits with Tenacity
Slowly but surely, Liautaud's penchant for hard work began to pay off.
In its first year, the original Jimmy John's sandwich shop made $40,000 in profits from $150,000 in sales. By year three, Liautaud made enough to pay his dad's loan back with interest. By year ten, Liautaud had expanded to 2- shops and had himself more than $1 million in the bank.
Once he started franchising, profits skyrocketed. Jimmy John's grew to 200 stores between 1993 and 2003, and, as Liautaud shared with the audience, his "income went from roughly $20 million [annually] in 2007 to $100 million [annually] in 2014." By 2019, his profits were closer to $200 million annually, he added.
In 2016, Liautaud sold the majority of his stake in Jimmy John's to the parent company of Inspire Brands — whose holdings also include Arby's, Baskin-Robbins, Sonic, and Buffalo Wild Wings. In 2019, he stepped down as CEO and sold his remaining company shares to Inspire, telling Forbes that the timing couldn't have been better for the company's franchisees, shareholders, and employees.
Liautaud acknowledged his father's doggedness as a door-to-door encyclopedia salesmen and said it influenced his own business style. He told the Des Moines audience that his trajectory from college sandwich shop to CEO of one of the country's largest sandwich brands was paved with pure hustle.
"Persistence will beat brains seven days of the week. I'm proof of that," Liautaud said. "I didn't know how to acquire debt. I didn't know how to make a business plan. I just saved up and did it all with my own money."
Investing in Land
In 2007, Liautaud sold 28 percent of his share in Jimmy John's for $130 million. He promptly invested the proceeds in farmland, gold, and municipal bonds, he informed the crowd.
"I sold [that portion of the company] with the goal that I could put that money into an investment that would allow me to live my lifestyle without ever having to worry about money again," Liautaud said.
Acknowledging his mutual passion for land with those in attendance, Liautaud noted that he currently owns 9,000 acres in tillable crops — mostly corn and beans — in Illinois, along with additional cropland in Kansas, timberland in Wisconsin, and two California wineries.
"I discovered I really like the farm side of the business," Liautaud shared. "I like buying land, controlling inputs . . . and the hustle of selling [commodities]."
Liautaud told the crowd that farming and the sandwich business are akin in their intensity. "In both pursuits, when it's go time, it's go time. When it's time to sell, you're opportunistic about selling. You're up and doing what you gotta do," he said.
Similarly, in both endeavors, Liautaud has tried to beat out his competitors by delivering superior products and service. As an example, he told the crowd how, paradoxically, Jimmy John's profit margins soared when the company decreased delivery areas and enhanced their trademarked "freaky fast" delivery.
"At Jimmy John's, there was not one silver bullet or some secret idea … we just did everything a little bit better than everybody else," Liautaud said. "And as a result, we made a little bit more money than everybody else. And I think we do that with the farming too. Our guys have the best equipment, and they're working their asses off to do everything a little bit better [than others]. And because of that, our yields are a little bit above average – and I'll take that. I enjoy doing extra work, and I like the hustle."
Expanding Agricultural Operations
Liautaud plans to continue expanding his land holdings, telling those in attendance he is actively pursuing new land- and ag-based investments.
"We absolutely love to hear about new opportunities. It's where we deploy capital – that's what my family investment office does," he said. "Farmland is the second largest holding in our portfolio, and we were lucky to have it as an asset class, with it performing like it has the last couple of years."
Perhaps not surprisingly, as Liautaud expands his agricultural operations, he plans to take with him the hustle-mindset that's served him well throughout his career.
"I want to help preserve soils and maximize [farmers'] potential, and I want to be forward and progressive-thinking when I do it," he told the crowd.