Land Prices Remain Strong
Land Prices Remain Strong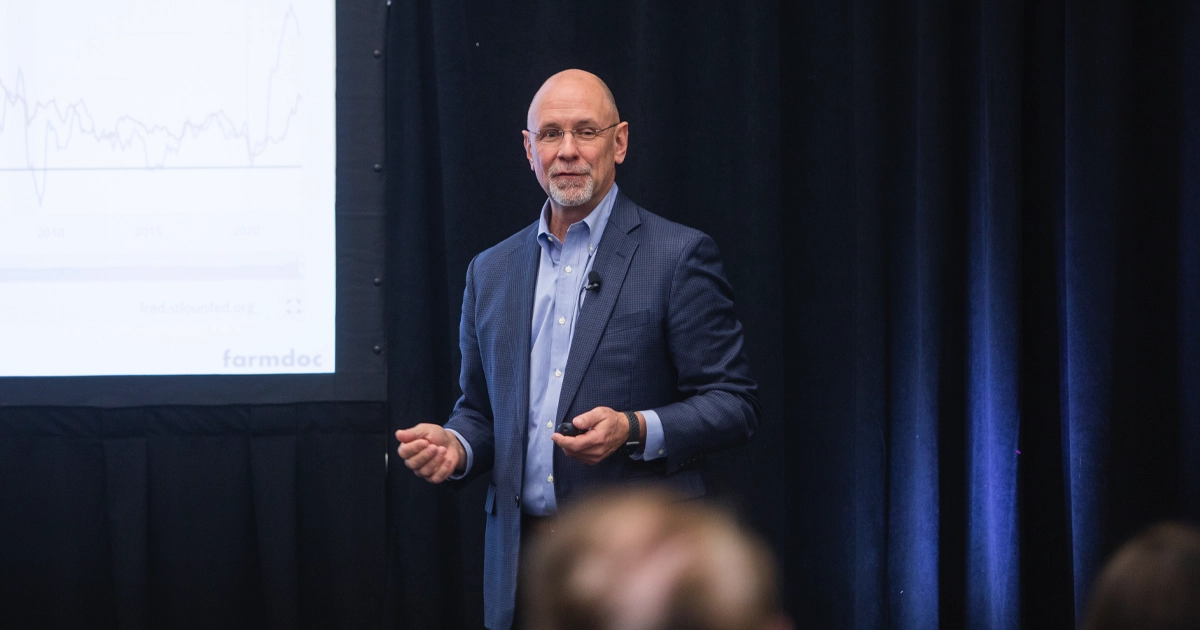 Dr. Bruce Sherrick, a professor of farmland economics and director of the TIAA Center for Farmland Research at the University of Illinois, shared insights on recent soaring agricultural land prices during a breakout session at the 2023 Land Investment Expo.
The presentation highlighted several key insights from the National Land Values Report 2022, written by Sherrick and published by Peoples Company.
Farmland Values
Sherrick began his presentation by walking attendees through what he called a "remarkable rise" in per-acre prices for cropland in America between 2020 and 2022. To prove his point, Sherrick showed a US map with state-by-state per-acre gains during this period.
Every state in the Corn Belt witnessed greater than 20 percent gains in agricultural land prices over the past two growing seasons, with Kansas and Nebraska illustrating the highest increases at 41.83 percent and 37.61 percent, respectively.
Farm Returns
Rising land prices can be linked directly to historically high commodity prices. These led to higher-than- average farm incomes, which were further buoyed by federal direct-farm payments over the last two years.
"It was just kind of a perfect storm on the way up," Sherrick said. "Incomes have been exceedingly high and continue to be exceedingly high. It's been a two-year bull run in agriculture that we haven't seen before."
Sherrick then shared a US map of state-by-state data on "cropland total return" values, which factor net farm income minus land interest and operating expenses. Between 2020 and 2022, most Corn Belt states netted greater than 20 percent returns.
These returns, Sherrick said, help explain why agricultural land is in fact, not overpriced — despite the record-high per-acre averages states like Iowa are seeing.
"People often ask me, 'Isn't farmland overpriced?'" Sherrick told the crowd. "And the answer is, of course not. Markets are not that dumb."
Desired Asset Class
During the presentation, which also touched on the effects of inflation and farm insurance on recent farm incomes, Sherrick referenced several free online tools available on the University of Illinois farmdoc site, including the recently released 2023 Crop Insurance Premium Calculator.
While recent booms in land values and commodities returns may be attracting the interest of would-be investors, land availability remains slim. Citing what he called a "thin market" currently happening in ag land sales, Sherrick noted that last year in Illinois, only 2 percent of the state's agricultural land changed ownership in arm's length transactions.
Leaving the crowd with a lighter note of reflection, Sherrick acknowledged that a conversation among any gathered group of farmers would likely eventually include complaints about the high costs of ag land currently.
But those same farmers readily admit that they're eager to buy more land, even at today's prices — and they're none too eager to sell.
"When I ask farmers, 'Who wants to buy more land?' everyone's hands go up," Sherrick said. "But when I say, 'How about I buy your land at today's prices — for a price you think is too high.' And their hands all go down."
Sherrick explains the reaction simply: Everyone involved in land understands there's no other asset class they'd rather own.
"Land is essentially a tax-free asset class," he said. "Plus, there is a real intransigence [to let land go]. People don't want to depart from this asset class because they have such great, personal feelings around it. We all want to be part of American agriculture."