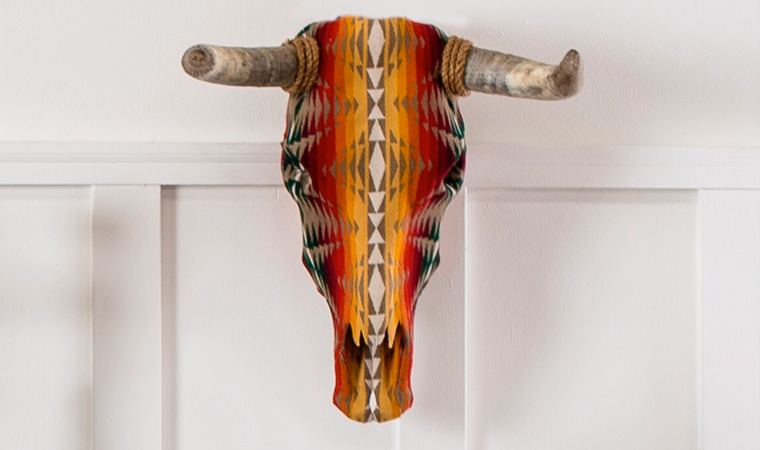 Not long ago, Seth Patterson made his living obsessing about data. As the digital marketing chief at Pendleton Woolen Mills, it was his responsibility to ensure that the story of Oregon's world-famous mills had a global reach. So, when orders began flooding in after he posted an upholstered cow skull on Instagram, he knew he'd struck a chord with consumers and designers in search of unique and captivating objects for home decor.
Patterson, who lives on the banks of a Columbia River tributary in rural Northwest Oregon along with his high school sweetheart and their four children, grew up in Beaverton, a suburb of Portland best known as the headquarters of Nike. Patterson left the Beaver State in 2007 to compete in cross country for Abilene Christian University in West Texas. He worked briefly on a dude ranch outside Jackson, Wyoming. But his DNA was too strong, and he ultimately returned home. Today, he describes himself as a true-blue Oregonian.
"Oregon has ruined me," he tells me as he laughs. "I'm judgmental about land that isn't as beautiful as ours."
In 2013, Pendleton created a digital marketing position for Patterson, who went to work to introduce the heritage brand to a brand-new audience via social media. Millennials embraced the quality as well as the brand's compelling story. "In the office there's a poster that says, 'There's a part of you that's Pendleton.' Once you buy a blanket or a wool shirt, it lasts forever."
Patterson pitched a slew of ideas to the company's product developers. Then, he lit on one that was too good to outsource. After seeing a friend draw a Pendleton design on a fish, he sought out a taxidermist in Eastern Washington in order to learn how to upholster the countless colors of wool fabric on a Chinook salmon. He quickly sold his dazzling creation on Instagram and was thrilled at the buzz it generated. So, he decided to try the same technique on a bull skull that was sitting in his shop. He enjoyed the process of upholstering the skull and kept honing his technique by experimenting with dozens of different adhesives. His burgeoning customer base clamored for more.
"One thing I learned during my years at Pendleton is that their patterns on the right object can make the room," he says.
Soon, commissions began to pour in. Business got so good that in 2019, Patterson quit his day job at Pendleton and founded two e-commerce sites: SethPatterson.com, where he sells most of his skulls to homeowners and to interior designers around the country; and 84East.com, which sells state-themed wool blankets designed by Patterson and Tom Baker and produced by Pendleton. The 84 East collection was inspired by the success of Pendleton's collection of national park blankets.
"Personally, I love bringing the outdoors in. The natural look of Seth's products brings more texture to a space." — Mandy Black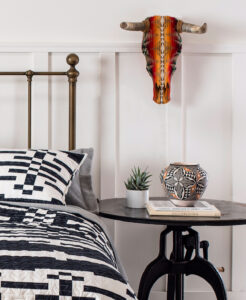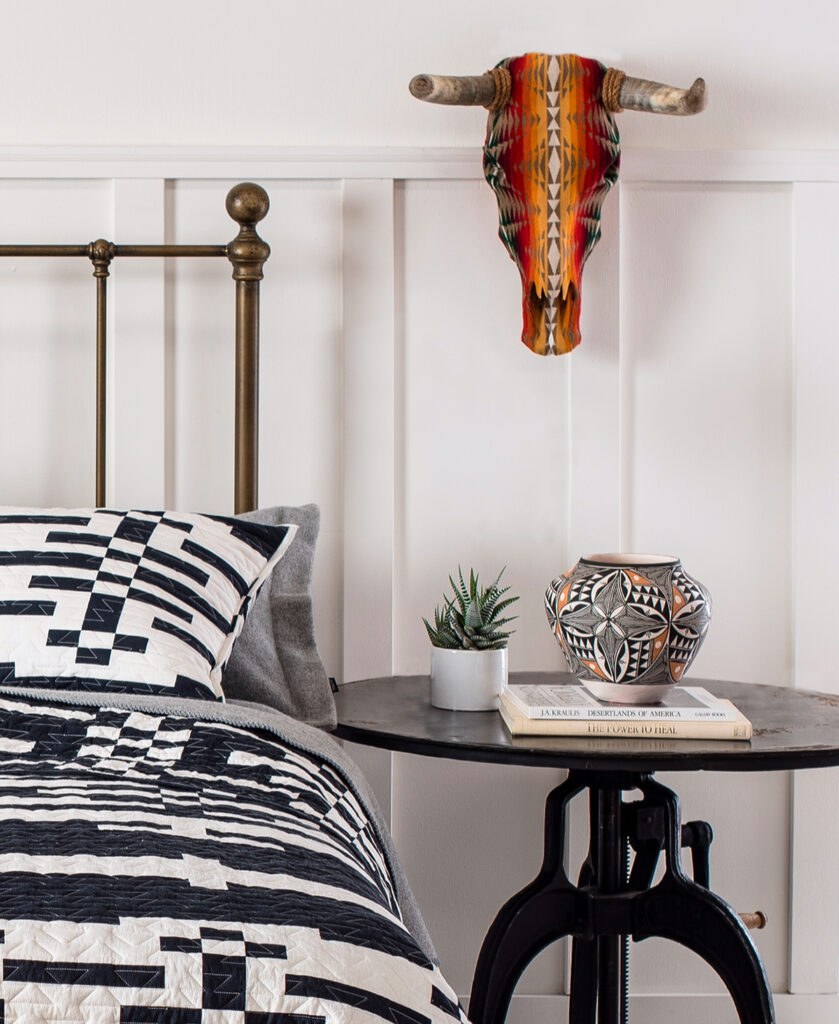 "As a designer, you are always looking for -custom and really unique items to put in homes and that's what drew us to Seth's skulls originally," says Mandy Black, an associate designer with Collective Design Group in Frisco, Colorado.
"Personally, I love bringing the outdoors in. The natural look of Seth's products brings more texture to a space," Black says.
Prices start at $900 for deer skulls, $1,200 for cow skulls, $1,500 for bison and elk skulls, and $2,000 for longhorns, which can weigh as much as 15 pounds and stretch six feet in length. With fish, he charges $50 an inch. The skulls are either natural or resin, a recent addition. Some customers occasionally ship him a skull to upholster.
Patterson, who maintains close ties to his former employer, has access to dozens of Pendleton fabrics. He can get almost anything per a customer's request but prefers to work with the jacquard patterns because of their tighter repeat. He does all the work himself at his home.
"The challenge is to get the patterns to flow with the form. What people don't realize is that I can get 90 percent done and have to rip off the fabric and start over. Every single time I work on a piece, I end up hitting dead ends," Patterson says.
His direct-to-consumer sales show no signs of hitting any obstacles. A Kickstarter campaign for 84 East featuring his Oregon Blanket set a $20,000 target. It subsequently grossed more than $83,000 from 266 backers. According to Patterson, his customers are often "land people" like him — hunters and anglers. He also sells to real estate brokers, architects, moms, and more.
"Pendleton doesn't understand how cool they are," he says. "When Pendleton gets put on the right thing in the right room, people lose their minds."