Sold! Grizzly Ranch Sells for $18.5 Million
Sold! Grizzly Ranch Sells for $18.5 Million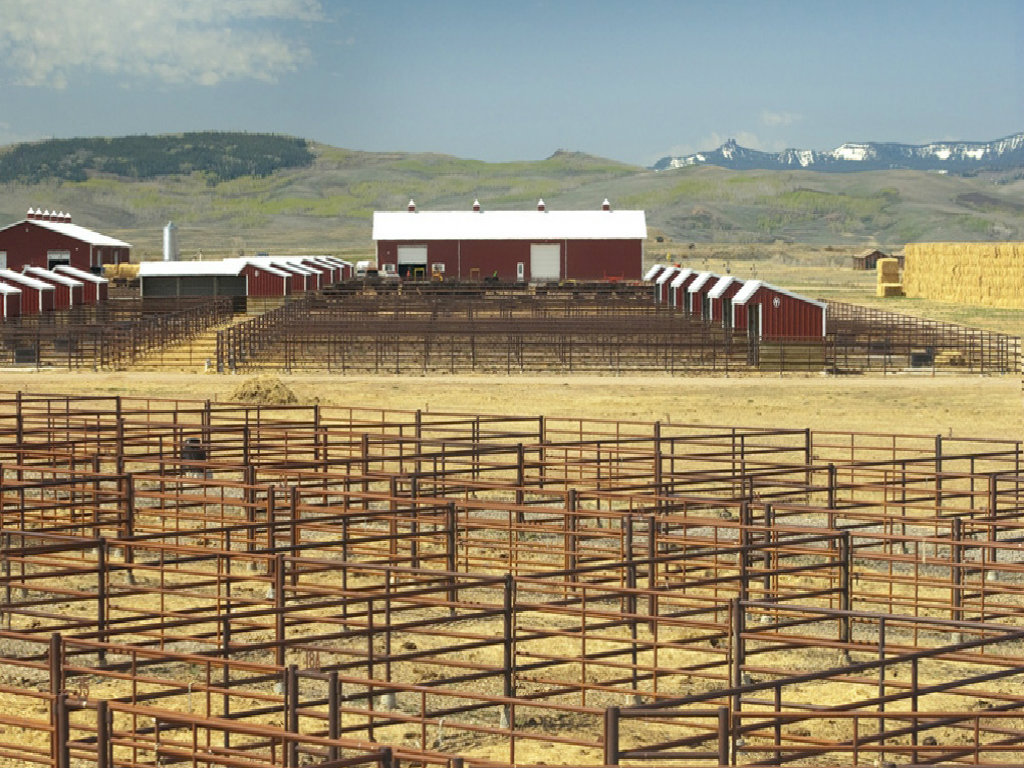 Over-the-top Colorado Showplace salvaged out of bankruptcy.
One would be hard pressed to put a value on the long list of improvements found on Colorado's Grizzly Ranch. For starters, the 26,686-acre ranch boasts six residences, 33 livestock sheds, and steel-welded corrals for more than 1,000 head of cattle. Sounds fairly typical, right?
Add to those basics a 2,800-square-foot equipment shed, a 6,400-square-foot livestock working facility, a 9,000-square-foot machine shop, and an 11,000-square-foot calving barn, and you're talking about close to 50,000 square feet of improvements.
And that's before you include the show barn. The Grizzly Ranch Show Barn is no ordinary show barn. The 19,000-square-foot auction center boasts motorized stadium seating, a commercial kitchen, indoor sorting pens, an entertainment hall, conference rooms, private offices, and more living quarters. Best of all, the Grizzly Ranch Show Barn still has that new car smell because it has never been used. Not once.
Turns out the Grizzly gobbled up so much cash early on that its backers never hosted a single auction. Not one buyer ever called in a bid via the state-of-the-art telephone system that reportedly cost hundreds of thousands of dollars. Buyers actually did purchase cattle off the ranch – at the dispersal sale.
"Can you imagine that?" asks Rob Pfister.
The Wyoming broker and his client were scouting Colorado's North Park basin when they discovered the then-bankrupt property. Pfister immediately sensed significant value in the distressed holding as well as its potential as a high-altitude cattle operation. The Grizzly Ranch's 8,686 deeded acres are augmented by 18,000 acres of BLM and State of Colorado leases along Highway 14. Substantial water rights facilitate production of roughly 5,000 to 7,000 tons of hay annually. More than 70 miles of irrigation ditches crisscross the property as do 16 miles of creeks and streams. The wildlife is nothing short of spectacular, thanks to the ranch's proximity to Arapaho National Wildlife Refuge as well as thousands of acres of state and national forests.
Pfister's primary concern was whether or not a deal could be done. He did a little digging and found out that the Grizzly had once been listed for $24.95 million by Ren Martyn of Steamboat Sotheby's International Realty. Working together, the two brokers were able to shepherd the ranch from bankruptcy court into the hands of new owners.
As a Wyoming attorney, Pfister's legal training proved essential. "The Grizzly Ranch was a very strange, very complicated bankruptcy sale. Definitely best in show. There were some title curative matters that we needed to resolve right up to closing," Pfister says.
In March, the Steamboat Pilot identified the buyer as Kallen Kimzey of Pine Bluffs, Wyoming. The Kimzey family owns ranches in Pine Bluffs and Glendo; in 2015, they acquired the Y Cross Ranch in Laramie County from the foundations that support the University of Wyoming and Colorado State University.
The Pilot also noted the sale price of the Grizzly Ranch: $18.5 million, a hefty 25 percent discount off the original listing of almost $25 million.
According to Pfister, his client's offer was based solely on the value of the land and the considerable land-related assets, including a substantial portfolio of water rights, mineral rights, and conservation opportunities. The 80-plus buildings on the Grizzly Ranch? Not a single dollar was assigned to them.