Vistra Lists Fairfield Lake for $110 Million
Vistra Lists Fairfield Lake for $110 Million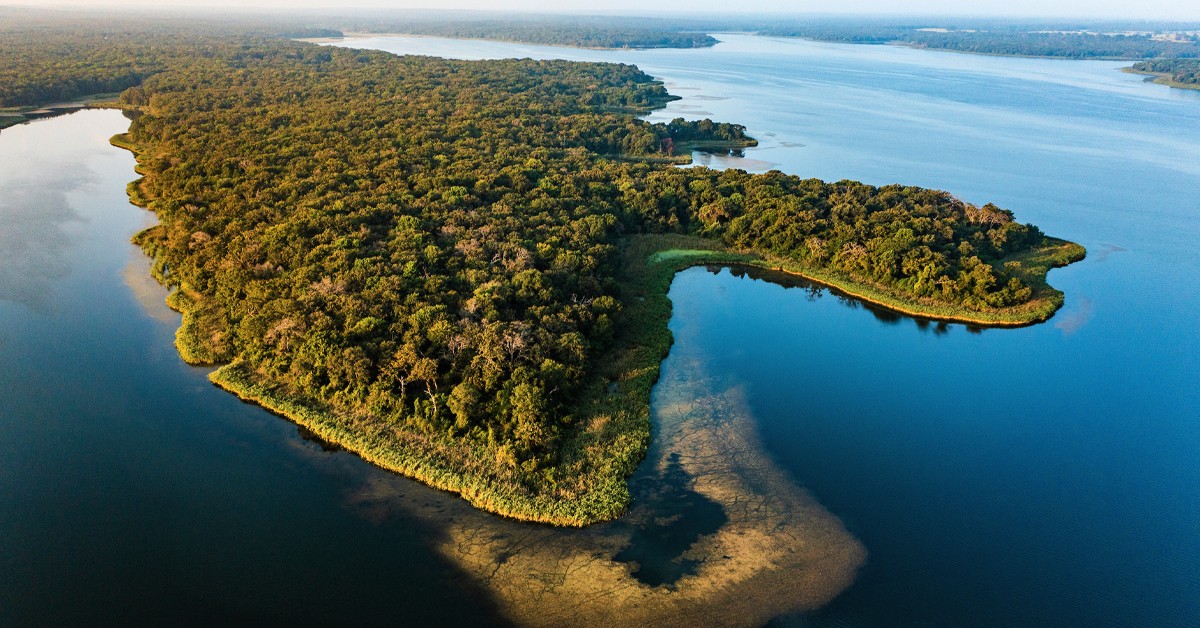 Fairfield Lake has been listed for sale for $110.55 million by Vistra, a Fortune 500 electricity and power generation company based in Irving, Texas. The 2,400-acre body of water is the standout feature of the 5,025-acre property. Cash McWhorter of Hortenstine Ranch Company has the listing.
Deep-Water Landmark
"The most overused phrase in real estate is 'once-in-a-lifetime,' but that's the only way to describe this property," says McWhorter, an East Texas native who specializes in waterfowl properties.
Hortenstine Ranch Company founder Blake Hortenstine estimates the depth at 50 feet. This key feature — coupled with the lake's sheer size — truly distinguishes Fairfield Lake. "This was originally a cooling lake for a power plant that was decommissioned and is in the process of being taken down. It initially had tilapia and redfish, and no one knew what was going to happen to the fishery when the power plant stopped pumping warm water in there in winter," Hortenstine says.
What resulted was a world-class black bass fishery. One largemouth tipped the scales at 13 pounds and set the lake record. Catfish, bluegill, carp, sunfish, and alligator gar share the pristine waters. Crappie, white bass, or stripers do not, according to Hortenstine.
The northern shoreline, which adds another 825 acres, includes two private islands, each with its own land bridge.
"The islands are both very accessible," McWhorter says. "They are one of the reasons that this is the most unique water asset in the Lower 48."
Cooling Reservoir
Fairfield Lake sits in East Texas's Post Oak Savannah region between Dallas and Houston. In the 19th and early 20th centuries, farmers grew corn and cotton in Freestone County.
In 1969, Texas Power & Light Company constructed a 4,350-foot earthen dam to capture water from Big Brown and Little Brown Creeks. Since 1976, the company and its successors — most recently Vistra — have leased 1,800 acres at the southern portion of the property to Texas Parks & Wildlife Department for $1 a year. In 2018, Vistra retired the Big Brown Power Plant and gave the state two years' notice. (The lease is not perpetual and can be cancelled.) Two public boat ramps are in place as are two homes for the park rangers. All transfer with the sale.
"As we've become experts on larger lakes, we have come to realize that many of the same questions about owning a 30-acre lake apply to owning a 2,000-acre lake," McWhorter says. For instance, liability issues associated with such a large dam. McWhorter and Hortenstine note that annual inspections and up-to-date maintenance — both of which apply to Fairfield Lake — are important precautionary measures.
The water rights and recreational resources are unparalleled. And although the property is located less than 10 minutes from Interstate 45, the idyllic landscape is completely invisible from highways or main thoroughfares. 
"There's been a lot of disbelief and excitement about Fairfield Lake," Hortenstine says. We believe him.
Originally published in the 2022 Land Report Texas Special Issue